My name is Kelly and I am an addict. A coke addict. Not the snorting addiction, the sipping one. I am powerless over Diet Coke. And I need an intervention.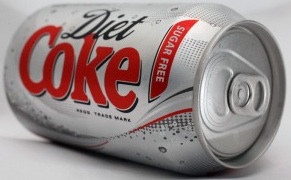 The only time I had control over this addiction is when I stopped drinking all caffeinated drinks. I was able to remain caffeine free for thirteen years, but then the stress of my marriage ending brought me back into the grips of this nasty addiction. I was not able to sleep more than 4 hours a night for many months. Caffeine became a necessity as a result. It was a gradual slide towards Diet Coke. It first started with Starbucks for my daily caffeine fix. Eventually morning caffeine was not enough so I had to add Diet Coke in the afternoon.
I tell myself I am buying the last twelve pack and then I am finished. This time will be different. When I run out I do have the resolve to not replenish, but find myself racing to McDonalds by 2 p.m. Ever the voice of reason for me, AC told me how silly it is to pay $2 a day for a Diet Coke. She is right, but as I explained to her, it is a form of punishment; I am hoping the cost of my addiction will help me curb the daily consumption. I am also making it more difficult by not having it in the house. This works for awhile, but then I buy another twelve pack.
What makes this addiction worse is that I am someone who worries about the type of food my family consumes. We eat meat only a few times a week for dinner and the meat we do eat is organic. Actually, almost everything I buy is organic. I don't consume or allow my children to consume products with artificial flavors, food coloring, high-fructose corn syrup, or partially hydrogenated oils. As an athlete in need of electrolyte replacement, I refuse to consume Gatorade.
But I drink Diet Coke.
Now that I am again restricting myself to buying Diet Coke out, I have added an additional level of shame; I am now carrying around McDonalds cups. I have thought about wearing a sign around my neck that explains I am a Diet Coke addict, but would never think of actually eating at McDonalds.
The low point in my addiction was this summer when I was walking toward Whole Foods to shop and realized I was carrying a Diet Coke from McDonalds. I needed a small brown bag to wrap around my cup. I didn't want anyone to know this health-conscious woman about to buy organic produce and grass-fed beef was walking in with a contraband from–the horror–McDonalds. Surely an alarm would sound when I walked through the sliding doors. Or worse, security cameras would be monitoring my every move. People would avoid eye contact with me or shake their heads in pity as I made my way down the aisles sucking poison from a giant McDonalds cup.
I need to break this addiction, not just for me, but for my friends and loved ones too. AC has been repeatedly tortured by me in an over-caffeniated state as have others in my life.
Maybe I am not fully admitting to my addiction, but I don't plan to completely give up Diet Coke. I can't. It is impossible for me to go to a baseball game without eating peanuts and drinking Diet Coke. Not allowing myself this treat would actually take away from the game experience.
I am a Diet Coke addict.
And I am powerless to my addiction.