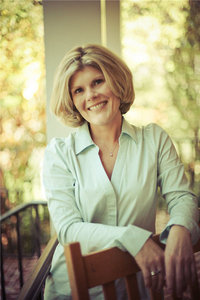 Grace Adams does look better naked.
Maybe I have a soft spot for naked bloggers, but I have fallen in love with blogger Grace Adams of  Looks Great Naked. We have eerily similar situations regarding our divorce woes; share identical misconceptions on the need to portray perfection (pre-split, that is); possess the same outlook on life as a result of said divorce; have blogs as an outlet to express redefining ourselves; and even experienced a breast cancer scare. Grace is essentially my blogging twin.
Grace must be asked repeatedly, "What's with the blog name?" In her own words:
In 2001, my mother handed me a "gift," a copy of a book filled with diet and exercise tips.  The book was called Look Great Naked.  When she handed me the book, she said to me, "I think your husband is having an affair."
She was right that I needed to learn how to look great naked, stripped down to my authentic self.  I was addicted to perfection and to the notion that I had to hide my weaknesses from everyone, including myself.  Ironically, the image I portrayed was terribly unattractive.
Mom's gift and my husband's affairs helped me peel away the scales of the image and helped the flower begin to bloom.  After all, it's really hard to portray an image of perfection when your husband leaves you for a shot girl he met in a strip club.  I found a happy place in realizing that I'm at my most beautiful (and loveable) when I'm genuine.
And for that, I'm overwhelmingly grateful to both of them.
Being thankful in the face of a challenge is no small feat. Feeling gratitude after experiencing the pain and humiliation caused by her husband, Grace is happier with who she is now. Grace is someone to turn to if you forget to embrace what comes your way in life–good and bad–because both will result in a better you.
Grace is a talented writer with a gift for storytelling. Looks Great Naked is a well-written blog containing content that is sad, poignant, and funny. Sometimes all at the same time.
Grace's ability to offer up self-deprecating humor can be found throughout her blog. I'd Rather be a Dumb Blonde than a Slow Brunette is the story of Grace, a car full of crazy dogs, a slow (I mean that in the nicest way possible) Georgia cop, and full disclosure regarding Grace's bad (I mean that in the nicest way possible too) driving abilities (or lack therof). Her biggest issue with the ticket was the cop's description of her as a brunette.
"Brown, my ass.  I paid a small fortune for this blonde.  More than the stupid ticket cost, actually."
Grace has even found humor in her breast cancer scare. In Shitty Titty Bang Bang Grace explains, in great detail, how she feels about her breast. It seems they have a love-hate relationship.
Even in the face of complete humiliation from her husband, as she is trying her best to repair their marriage, Grace finds a way to express her pain through humor. Mine's Bigger than Reggie's is a great piece on the beginning of the end of her marriage.
True to her writing style, Grace has us laughing as she takes us on her Match.com dating adventures. A Match.com Made in Heaven is the first in a five-part series. I highly recommend you spend some time reading the entire series. These posts are great for anyone thinking of entering the Match.com world of dating. Size Definitely Matters is another post in the series that will have you laughing.
And even when I don't have time to visit with Grace on her blog, I still benefit from her by simply reminding myself of her blog's mission statement:
You look great naked when you have nothing to hide, when you accept yourself exactly the way you are — right here, right now, flaws, wrinkles, knots, bumps, lumps, bad attitude and all. It's not a pass for slacking on the maintenance; it's about not obsessing over perceived imperfections.
Be yourself. Who you are is gorgeous; trying to be what you're not isn't.
Go tell Grace she looks great naked. Oh, and while you are there, tell her the other naked blogger sent you.
Blogs to Bookmark received a positive response from readers last week. This weekly blog review will be a chance to review blogs I read and enjoy, hoping to increase the bloggers' readership. Let me know in the comment section your thoughts on the series!