This has been a week of contemplation. The main focus has been on identifying what I have been holding onto from past experiences and sorting through whether I was ready to let go.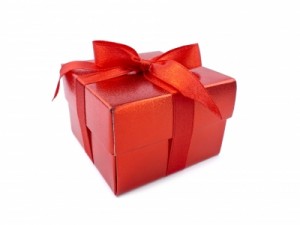 Following my separation I recognized that during my marriage I had stuffed all my feelings in a box, tied a pretty bow on it, and tucked it away on a shelf. It helped me continue in my marriage, without much contemplation of my feelings. This made it easier for me to cope.
It was emotionally overwhelming when I removed the box, dusted it off, and peeked inside. There was an overflow of feelings that had been stuffed in the box over the years. It seemed unmanageable at times as I sorted through the contents.
Spending time thinking about where I am right now, I realized that it was time to let go of a few things. And what I recognized this week is that the box wasn't a bad thing. I just tied the knot too tightly on the bow the last time and I wasn't mindful of what I was even placing in the box. If I had been more aware, I would probably have sorted through those emotions much easier at the end of my marriage. And the box might not have been so full.
Unlike my marriage box, the new box is a place to tuck away things when I am ready. It is a place to put items that have been fully processed. The first item was placed in the box this week.
It was time.
It felt good.
I feel lighter, freer, and happier as a result.
This new item was overdue to be tucked away, but I needed to do it in my own time. I am thankful to the friend and the circumstance that prompted me to recognize it was time to let go. It was a gift.
Doing this is allowing me to move forward and enjoy the next great adventure in my life. I have room now to fully appreciate a new experience.
Today the Song of the Week is These are Days by 10,000 Maniacs. It's a great song and a good way to put the week behind me and look forward to a fun weekend with the kids. We  have a three-day weekend filled with fun activities. The weather is going to be warmer so we will have the opportunity to enjoy being outdoors. Our plans include a big craft project, plans with friends on Sunday, a movie to watch, and family game night.
My favorite lines from the song:
…you are touched by something that will grow and bloom in you.
These are the days that you might fill with laughter….
Happy Friday!