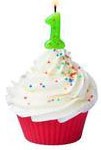 A year ago today I composed and published my first blog post. It wasn't that long ago and yet it seems like a lifetime has passed in what has only been 365 days. A year ago I would not have imagined my life as it is today.
In that first post I wrote briefly about the final incident in my marriage (albeit cryptically for the sake of privacy) to bring it to an end and compared it to something upsetting that happened, days before my first post, in the relationship I was in at the time. The post was filled with the following words: baggage, trust, therapy, Lexapro, crying, vomit-inducing, problems, challenge, heartbreaking, and shaken.
These words don't fill my posts anymore.
My life is so much better.
I am happy.
Looking back one year, I remember being incredibly unhappy in the relationship I was in, but I couldn't walk away. After that incident, my head knew I should have moved on and not looked back, but my heart simply wasn't ready. And yet nothing positive happened the remaining five months of that relationship. It was only filled with more heartache and deceit.
When I wrote that first post I was just beginning the divorce negotiations; I was not in a great financial position; focusing on work was still difficult; the list of home repair projects was rapidly growing; and I was unsure about what I wanted to do in this next chapter in my life.
Thankfully everything has changed one year later.
I am happy and fulfilled in my own life. Dating someone I enjoy spending time with is simply a bonus. I could not say that a year ago. This improvement in me is one thing I am most proud to have accomplished in the last year.
As a result of this change in me, the bar is high for men I choose to date. It's not unrealistically high, but if I am going to spend time with someone, it should be a fun, enriching experience.
My divorce agreement is signed and we are living according to those terms. We await a brief court date to finalize our uncontested agreement, bringing about much-needed closure for us. My ex and I are not just amicable, but friends. We are co-parenting successfully. And, most important to me, he becomes a better dad with each passing month.
My financial situation has improved considerably and the stress of legal bills is over. I am also fearlessly tackling the home repair list and find myself proud of each project I complete.
As for the next chapter of my life, it is all coming together. What I have learned is to refrain from mapping everything out. In the last year I have simply remained open to opportunities and ideas. Being receptive to what comes my way and being able to recognize opportunities as they are presented in my life has brought about greater successes.
Writing this last year has been an adventure. Never could I have imagined my blog would realize this amount of success. I am amazed at how much more comfortable I am with writing and I have improved as a writer as well.
This time last year I had been accepted into a professional photography program. Unsure of whether it was selfish of me (not sure what I would "do" with it), whether I had the time  and money to commit, and if I could even succeed were worries. I delayed entry until September, thinking I could change my mind or delay again as that date approached.
Eight months after entering the program, I have grown tremendously as a photographer, learned many life lessons,  and am artistically fulfilled. I have taught my children things I could not have without this experience. I have also become friends with a special group of women. I know our friendship will continue years after graduation.
I don't remember what activities filled my day on April 18, 2010, but this April 18th is a perfect day. I couldn't ask for anything more today:
My final Portrait class project is due today. I am proud of the images I made and I can't wait to present them in class. I also have my final exam in this class.
I will have lunch with the four special girlfriends from school. We are going over our study notes for the Color exam on Wednesday and catching up.
Lucky (our dog) and I will be going for a long walk around the lake.
I plan to spend time shooting in the afternoon.
I have a date with the man I am dating. He has planned dinner at one of my favorite sushi restaurants and a movie.
The day is balanced and fun. It would be nice to add time with the kids into my day, but they are away with their dad. It has taken time to arrive at this place, but I am happy they have the special time with their dad and I am looking forward to doing things I wouldn't do if they were home with me. I never thought I would be a peace with time away from my kids, but I am there.
One year later, I could not be happier with my life.
************************************************
Thank you for your support of my journey and my life this last year. I never felt I walked alone. The comments you have left have been a great source of positive energy.
I am excited to see what happens in the second year of blogging.
I hope you will stay with me on this journey.