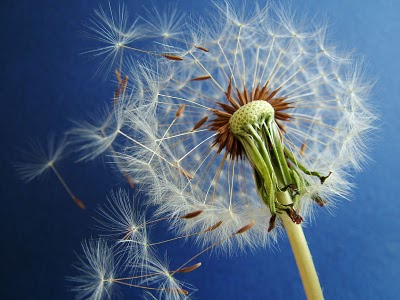 My blog title is based upon something my daughter said at the age of three. I also write often about how much I love children. Simply stated, children bring joy to my life and I learn a tremendous amount about myself and life by seeing the world through their eyes. As a result, it is probably not a surprise to readers to learn what is most important to share about my birthday yesterday was a gift I received from a very special little girl in my life. I am Aunt Kelly to this adorable seven year-old, who lives next door to me.
Standing at the door with her sister, she handed me wishing flowers (also known as dandelions). Here's what I learned: you make a wish, close your eyes, and blow the tiny fairies (that would be the dandelion seeds). These fairies fly home, carrying your wish with them. It isn't a guarantee, but your wish just might come true. If it is your birthday though, you have a much better chance of success.
There were so many wonderful birthday wishes, thoughtful gifts, meals out with friends, and more. I have another fun evening tonight and the man I am dating has a full day/evening planned for us tomorrow. I am blessed with great friends, wonderful children, a loving family, and a great boyfriend. All of them made my 42nd birthday special.
But I love the gift of a wishing flower the best.
I will forever see dandelions as wishing flowers now. And, best of all, I have an adorable video on my iPhone of this cute girl explaining to me how the wishing flower works.
To be able to stop, be present in the moment, and experience something with a child, makes life more enriching and fulfilling. Turning around thoughts of a pesky weed to a magical flower is a gift.
Last night I was running errands to get ready for the weekend and stopped by to see my boyfriend. Pulling the car over, I picked wishing flowers to share with him. I know him well enough to know (a) he wouldn't think I was crazy and (b) he would embrace the experience too.
We walked into his backyard barefoot and in the dark. I told him the story of wishing flowers. He didn't laugh at me, but smiled at the idea instead. And there we stood blowing dandelions by the light of the moon while making wishes. It made me smile, seeing a grown man wishing on a dandelion. It warmed my heart.
I can't thank this little girl enough. For simply being in my life. For the flowers. For the video. For explaining to me about a magical flower that I mistook for a weed. For laughing in the moonlight, looking up at my boyfriend as he blew fairies to their homes, carrying his wishes too.
Thank you my little friend, for the special birthday gift.
For Song of the Week I am sharing Five for Fighting's song "100 Years."
Happy Friday!