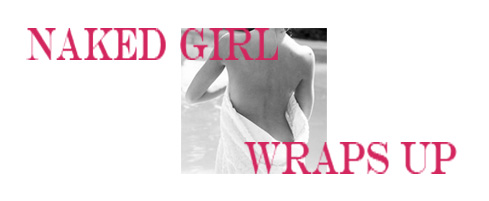 There are times I worry that if I don't stay completely on topic with the concept of Naked Girl in a Dress, I am letting my readers down. I envision people come back each day I post to find a way to be inspired to live a free, happy, and uninhibited life. The thought is that I am providing, no matter how small, some inspiration to my readers. So when I hit publish on a piece about a disagreement with my boyfriend over his choice in a cell phone purchase, I feel I am failing my readers. Is this really why I have a following? To share the minutia in life doesn't seem to be appropriate. Instead I believe readers come to my blog to read about forgiveness and other more serious topics.
Each time I hit "publish" for a fluffier, humor piece I cringe. Did I let my readers down? Will it be well received?
I finally shook this line of thinking last week. I posted a serious piece on Wednesday and followed it up with humor on Friday. And both were well-received. This continues to be the trend too; serious and humor continue do equally well on my blog.
What I now realize is that both posts have a place on my blog. Life isn't about being serious and introspective all the time and neither should my blog; balance is good here and in life.
And then there was the talk with the boyfriend.
What he pointed out so well is that I am staying on topic when I write something funny. I am showing my readers that I am happy and enjoying life, which is a part of being that Naked Girl. And, by bringing humor into readers' lives, maybe they are a little happier as a result of my post as well.
Well said boyfriend.
I texted him the following comment after seeing the huge jump in visits and page views the day I wrote about our cell phone drama:
"You make my blog better by being in it, just like my life."
And he really does.
A Wrap-Up of My Writing Last Week…
One of the greatest benefits of writing for Sprocket Ink (other than the awesome writers that I work with) is that I have total freedom in what I am allowed to write. My pieces just have to fit in one of the five categories. This gives me the opportunity to flex my writing muscles a bit. I can go from snarky celebrity post, to a serious political piece, and then, a few days later write about something bizarre. This week was no exception in the range of topics I chose.
Tuesday I wrote about racism and how it has crept into the presidential campaign. We have so many serious issues that our country faces and it is sad that we are discussing whether Obama was intellectually worthy to attend Ivy League. Go read about Donald Trump's latest antics.
A few days later I went in a completely different direction with my writing and wrote about the Beard and Mustache World Championship. Go look at the pictures in this post. It will make your day. Or creep you out. This bizarre post has gone viral too. There are a ridiculous number of page views for this post. It's not the quality writing. It's all about those pictures. Did I mention you need to go look at the pictures?
This week at The Red Dress Club, an online writing group, I shared a post from January. How are you Traveling Through Life is about happiness There has been a lot of positive feedback from the writing group as well as from readers who read and commented earlier in the year.
Studio30 Plus offers a great opportunity to members: inclusion in the Weekend Spotlight. This week I shared a post about my boyfriend and our crazy competition over who has the best cell phone. Our relationship will certainly survive this disagreement. Well, at least I think it will.
My Favorite Read This Week…
Each week in the wrap-up Studio30 Plus (S30P) is mentioned. This community is very important to me. I regularly stretch as a writer by participating in the weekly writing prompts. The Magazine is a great opportunity to write elsewhere as well as to have my writing highlighted (in the Weekend Spotlight) each week. I have "met" many of my favorite blogging friends though this community. And, one of the greatest benefits, I find great writers to follow and read.
Sharon, the fabulous blogger from Resistant but Persistent is a S30P member I enjoy following. Parallel Lives will inspire you to be a better writer (if you write) and cause you to pause to enjoy the beauty of the piece. I could stop here, pointing to this one post, as proof that Sharon is a gifted writer. Instead I will direct you to The Bookcase. This is another piece that I fell in love with the first time visiting her blog. If you enjoy reading, you will too. Please take the time to visit Sharon and stay awhile. I struggled to just choose two posts to share. Take your time and enjoy Sharon's writing like you would a good book. I promise you won't be sorry you did.
Enough from me….go follow all these links.
Happy Reading!