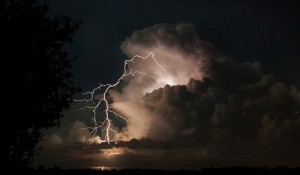 Earlier this year I wrote about trying to find the right time to introduce someone I am dating to my blog. Conversely, when is the right time to introduce a guy to my readers? After one or two dates is inappropriate; it is too early. I don't think waiting until love has been professed or a ring has been presented is right either. Somewhere in between lies the answer.
After I gave the guy I am dating permission to program driver seat setting number two in my car, I figured slowly introducing him to my readers was the next most logical step in the relationship.
Here are the few things I have shared so far:
Regardless of what we do, we have fun.
He is competitive, but not a sore loser.
There's a childlike quality he still possesses.
Even though I have written about him a few times, I have yet to call him anything other than "my boyfriend" or "the guy I am dating." I am tired of the awkwardness; he needs a name.
He will now be known on Naked Girl as Mr. Thunderbolt (read the post link to find out why)
I don't know what the future holds for our relationship. What I do know is that he is becoming a bigger part of my life, we continue to enjoy our time together, and I am happy. There's a lot to share in my writing as a result. And, most important, the guy simply needed a name.