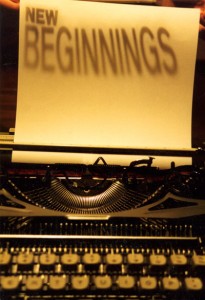 This week I have felt every emotion possible as a result of finalizing my divorce. It has been a hard week, but by last night I felt more like myself. I was relaxed and at peace, gathered together with a small group of friends. The friend hosting last night presented me with a cake. There was a special message written on it:
New Beginnings
Yes, it is a new beginning. It is time for me to move forward and celebrate this new life.
While I am pleased with where I am with my life right now, I do still know I have much to learn and experience on my journey. As I move forward with a new beginning, I need to stay mindful of where I am heading at this stage in my life.
A blog I recently discovered, Marc and Angel Hack Life, had a thought-provoking post. The piece simply listed questions for the reader to ask herself and ponder. Of the 50 questions posed, these ten resonated for me:
If happiness was the national currency, what kind of work would make you rich?
If the average human life span was 50 years, how would you live your life differently?
What one thing have you not done that you really want to do? What's holding you back?
Would you rather have less work to do, or more work you actually enjoy doing?
At what time in the recent past have you felt most passionate and alive?
If not now, when?
If you haven't achieved it yet, what do you have to lose?
What is the difference between being alive and truly living?
To what degree have you actually controlled the course your life has taken?
Are you doing what you believe in, or are you settling for what you are doing?
If I answer these questions as I would one, two, and three years ago and compare it to today, the answers change with each passing year. What I see is growth in me. A happier me. I know I am moving on the right path and where I am headed is becoming more clear.
While I had a significant change in my life on Wednesday that has led me to a point of a new beginning, we all have an opportunity for a new beginning.
Each day is a chance to start anew.
Here's to New Beginnings.
As I start this new chapter in my life, I thought  Five for Fighting has a perfect song for Song of the Week. This week I am sharing "World."
Go create the world you want.
History starts now.
Happy Friday!
Source