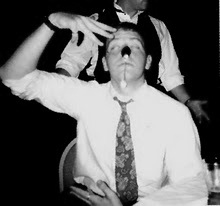 This week's guest writer is Jimmy of Founding a Father. He is funny and creative. And, from reading what he writes, it is clear he is a great dad and husband.
I first "met" Jimmy through Studio30 Plus, immediately enjoying his sense of humor and take on life. As you will discover in his guest post here, he is able to laugh at the craziness and unpredictability (or is it predictably unpredictable?) of being a dad.
Enjoy!
~~~~~
My wife and I have worked diligently to try and create a set of routines for our kids. We have routines for bedtime, bath time, and dinnertime, even what to do when Daddy comes out of the bathroom after enchilada night. While anytime you add kids into an equation things have the possibility to degenerate into mass chaos, for the most part, our routines have served us and the kids well.
This week, we'll be working on our 1st day of school routine. For the past 5 years, we have used this week to begin having earlier bedtimes, earlier wake up times, and calisthenics (ok, maybe not the calisthenics). The hope is, when the first day of school gets here, the routine we have worked on will be ready so all runs smoothly. My wife and I have spent ample time devising our plan for the first day. Were I to write down how it is playing in our heads, it would work better than a plan hatched by the A-Team to turn a Jeep Wrangler into a M1 Abrams tank.
Here is what my wife and I are planning on the routine being for the 1st Day of School:
Sunday night: Have dinner together. Kids get a shower while my wife lays out their clothing for the next day. Get the kids in bed before 9pm. Wake up at 6:30 so my wife and I can get ready before we wake the kids up at 7am. Wife gets in the shower, I go down to make coffee and take the dog out. Wake the kids up at 7am. They make their beds, brush their teeth, and get dressed. By 7:20 they are downstairs. I make them breakfast since I'll have off that day. They eat in the kitchen while the three of us talk. By 7:45 their mom is calling them upstairs to get their hair done. Hair gets done, lunches go in to their school bags, they watch a little TV and at 8:20 we head to the bus stop.
Then the Sunday night before school will come and here is what inevitably will happen:
Dinner together, but after years of eating applesauce, my kids will decide they hate it. Shower time, which has gone so well this week, will hit some bumps. No one wants to go first so I'll make the kids pick a number between 1 and 10 to decide who goes first. The oldest wins and the youngest begins to cry. We'll get through showers and go through 57 gallons of water (I don't know what they wash in there). It will be a fight for the remote and what is watched on TV. My wife will get a phone call and the 9pm bedtime turns in to a 9:45 bedtime (actually 10pm…she still has to lay out their clothing). Monday morning, the snooze button on the alarm clock will get pushed more times than a 'Bet All' button on a slot machine. From 6:30am, and in 9 minute intervals, till about 7:06am this will go on. My wife will leap in to the shower (hopefully remembering to take off her socks). I'll almost kill myself going down the steps with the dog to take her out which she most likely will not go. I'll skip the fresh coffee and opt for heating up what was left in the pot from the day before. I'll wake up the kids like the Tasmanian Devil (lots of spitting, spinning, and shouting). Any other day they would have been up by 7; today, they'll be like waking the dead. The little one won't make her bed; the big one will want to pick out her own clothing which will be the first (but not last) time my wife yells. My wife will be trying to get ready but won't be able to stop crying because her, "babies are getting so big" (this from the woman who only two weeks prior told me, "These kids need to go back to school"). My 4 course breakfast I was going to make will turn in to a homeless man's Continental breakfast at a Sleep Inn. No one will want to get their hair done. My wife starts yelling again. The dog will get a hold of a shoe, someone will drop food on her shirt and someone will forget about the lunches he put in the refrigerator. By the time 8:20 rolls around I'll not only surprised if we're out the door but if the house isn't on fire either.
This summer, like most, has been one that my wife and I relax on the daily routines. My kids have had three months' worth of the pool, the beach, playing, riding bikes, sleepovers and staying up late. But the summer is winding down and school is ready to begin just like our daily routines will begin again. Yet something seems to get to all of us (even the dog) this time of year. Something about the start of school I can't explain and something that tells me, try as we might this week, come Monday morning; that first day is going to be anything but routine.
Follow Jimmy:
Blog