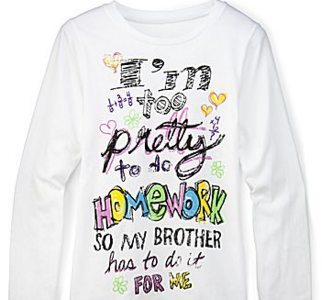 It's 2011. Women run for offices as high as President of the United States. Women run Fortune 500 companies. Women are Supreme Court Justices.
It is sad, with the various important contributions that women make in society, to recognize there is still a mentality to hold girls back from achieving all they can be academically and professionally. In 2011 girls are still being sent the message that pretty is more important than smart . There needs to be a shift in society to stop conveying to girls that pretty and smart are mutually exclusive. It needs to happen now.
For those who believe we are in a better place than I describe with regard to raising our girls with positive thoughts of no glass ceilings, read the following t-shirt messages being marketed to girls this fall:
"I'm too pretty to do homework so my brother has to do it for me."
"Future trophy wife."
"I'm too pretty to do math."
J.C. Penney, the retailer selling these shirts, had the following description on their website:
"Who has time for homework when there's a new Justin Bieber album out? She"ll love this tee that's just as cute and sassy as she is."
Only after customer complaints were being received did J.C. Penney decide these shirts would not be appropriate to sell this fall. J.C. Penney issued the following statement after pulling the shirts from their website:
"J.C. Penney is committed to being America's destination for great style and great value for the whole family. We agree that the 'Too Pretty' t-shirt does not deliver an appropriate message, and we have immediately discontinued its sale. Our merchandise is intended to appeal to a broad customer base, not to offend them. We would like to apologize to our customers and are taking action to ensure that we continue to uphold the integrity of our merchandise that they have come to expect."
Really? J.C. Penney is sorry it offended and could possibly turn off customers. If they had sold well without complaint there would have been no thought of the inappropriate message being conveyed to children (girls and boys alike). That is really what the retailer is sorry about regarding the offensive shirts.
What upsets me is the thought of a manufacturer thinking these shirt designs were a good idea. It frustrates me that a retailer thought it would be a great back-to-school shirt for girls. And, what would really anger me, is if  I learned even one parent purchased a shirt.
We all have a responsibility to instill in girls the thought that it is cool to be smart. We owe it to this generation of girls to make sure they don't bump against a glass ceiling when they are working professionals. And, equally important, we have an obligation to our children to teach the greatest beauty is that which radiates from within.
Knowing this was the focus of my writing today, I decided the singer Pink would be great for Song of the Week this week. Enjoy "Raise Your Glass."
Let's encourage girls to raise their glass for "being wrong in the right way."
Celebrate the beauty of individuality this weekend.
Happy Friday!
Source