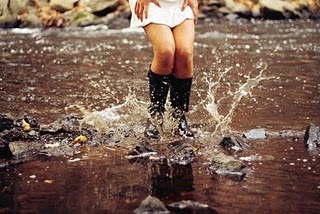 On a recent rainy, puddle-filled run I stretched out and leaped, not to avoid a huge puddle, but to land my foot in the middle of it. I quickly felt a wave of cool water enter my shoes as water also splashed up my leg. The squish I felt with each step as I ran through the puddle felt great. The run was much more enjoyable from the experience of puddle jumping.
This experience made me wonder about those who intentionally splash through, making a mess at times, and those who avoid puddles in life.  To avoid the puddles means living a safer life. The benefits, however, of jumping into life and experiencing it, even with the chance of a few bumps and bruises, far outweighs the risk.
The purpose of life, after all, is to live it, to taste experience to the utmost, to reach out eagerly and without fear for newer and richer experience. ~Eleanor Roosevelt
Fully experiencing life means taking risks.
Jump in feet first this weekend.
Happy Friday!