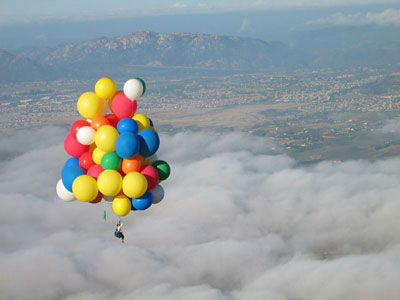 "Mom, we need 25 helium balloons, a video camera, and a homing device," said Monkey last night at dinner. The topic of discussion was planning an adventure for the three of us. This is something we do quite often. Not shooting video in outer space (Monkey's idea), but rather planning adventures.
I firmly believe to truly live, to fully experience life, adventures are needed. Whether we are plotting out a list of ideas for the summer or planning over dinner an adventure for the next day, it is a part of life for us. Adventures are usually not elaborate and are not expensive. Some involve day trips or weekends away while others don't involve leaving the house (e.g. fort building with Nerf gun wars during snowstorms). At times adventures just present themselves and we take advantage of the opportunity for a new experience.
Last night I started to wonder how many people live a day-to-day routine without experiencing adventures big and small. Life is too short to not embrace every opportunity we have to connect and laugh while experiencing an adventure.
"Adventure is worthwhile in itself."
~Amelia Earhart
When was the last time you had a big adventure?
Was it a trip you planned a few years ago or just yesterday?
And, more important:
When is your next adventure?