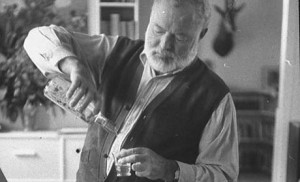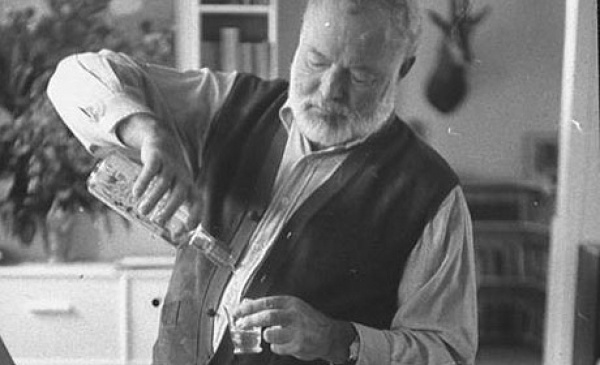 I have been stuck. For the first time since starting this blog, I have struggled with writing. While Ernest Hemingway probably took his own advice literally, it resonated for me this week figuratively:
"Write drunk; edit sober."
My writing struggle has not been a Jack-Torrence-like* problem; I have not been staring at a blank screen with an inability to write. My problem has been more an issue with a self-imposed moratorium on writing about relationships. Add to this dilemma one of my last posts I described breaking up with a guy and alluded to the fact that I would never date again in another.
So how do I proceed in my writing when Cupid unexpectedly hits me, not with an arrow, but a 2 X 4?
With the wonderful experiences and feelings I am having with my boyfriend, it is hard to ignore the pink elephant in the room while writing about something else. Choosing to not write what is most on my mind and my heart is impossible. This extraordinary and unexpected experience is not something to ignore, but I was at a loss how to approach the topic here. What happened, as a result of my struggles, was to stop writing. It has not felt right to be without this creative outlet, but avoidance seemed to be my short-term solution.
I am in charge of this site and control content. So what was I struggling with then? These are my rules to set, break, change, and bend.
Naked Girl was started to chronicle my journey of becoming free, happy and uninhibited after ending a very difficult marriage. This blog is about fearlessly redefining life at any age. How can I claim any progress with inhibition if I set rules on my blog that I am afraid to break?
So, inspired by a drunk Hemingway, I can write again without getting caught up in thinking too much.
It's time to let go and write.
I can always edit in the morning.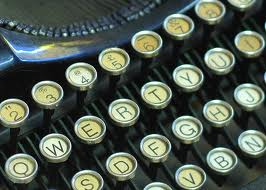 *reference to Jack Nicholson's character in The Shining