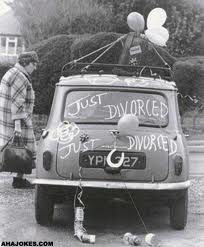 Whenever I write about the good relationship I have with my ex, I receive praise from readers and my social media followers. People comment on my blog about their frustration of not having the same. Many ask how they can get to a good place with their ex as well. I appreciate the praise and understand the aggravation these people experience, but it takes two people to be successful in any relationship. My ex deserves equal credit in the state of our relationship.
For those who are geniunely making an effort and are not successful in redefining a relationship with an ex, I have some important advice:
You can't control another individual.
Be at peace with the effort you continue to make.
Conduct yourself in a way you can be proud of.
Emotionally detach to reduce his/her affect on you.
Focus on what you can control.
I wish I had magic fairy dust to make an angry ex change. I could distribute to those in hostile relationships with their former spouses, but I don't have any special powder to share. Hopefully if you follow the advice your ex will eventually make the changes necessary to repair the damage between the two of you. It is possible.
Since you can't force a positive outcome with your ex, try embracing the negative experience and the unsuccessful relationship; something good can come out of it. For example:
You know what traits to look for in a partner.
You probably won't find yourself in a similar situation, whether it is dating or marriage, again.
While there is strife between the two of you, you are happier than you were married to him/her (an educated guess).
I recommend making a list of 10 positive things that are a result of the relationship ending. It will help bring about a peace in you and hopefully you won't be looking to your former partner to change, but rather, you will see the situation differently.
I hope this helps.