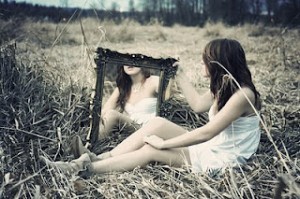 Being alone.
Lately I have been contemplating what being alone felt like post separation and how it has taken shape in my life today. This has been on my mind because I have entered a period where there will be a lot of alone time. The Boyfriend and I are typically on the same weekend visitation schedule with our kids, but with his travel commitments with work, we are now off schedule until April. This means two weekends without the kids and without the guy.
I can't wait.
Not because our relationship is shaky and I want a break, but rather because I enjoy being alone. I plan to see a movie, work on a house project, read, write, and enjoy the silence. I like having "solo date nights," taking myself out for a dinner and movie.
But it has not always been something I embraced fully. Post separation was difficult when the children were visiting their dad. There were weekends I felt too lonely to be in the house. I spent the time running errands and keeping myself busy. What I learned over time is that when I could truly sit alone and appreciate the solitude was when I was ready to open up to another; to be available to share my space with someone.
I believe this is a struggle many people have following a break-up or divorce. This fear often causes a need for a constant stream of relationships. And, sadly, the fear of being alone is sometimes the only glue that binds a couple together.
How can one learn to be happy alone?
I found the most beautiful description recently. It is a poem by Tanya Davis, which was filmed by Andrea Dorfman. The following is what resonated for me from the poem How to Be Alone.
When you begin to learn to be alone:
Be patient.
Wait for it.
Start simple.
Starting simple could be a visit to the library or eating lunch out alone.
Work towards being comfortable alone:
Eating dinner out.
Going to a movie.
Taking yourself dancing.
Visiting an unfamiliar city.
As Tanya accurately states "society is afraid of alone" and  "lonely is a freedom that breathes easy and weightless." Embracing being alone is about loving oneself. It is worth the effort because everyone will be alone at times in life. It is not always easy, especially during challenging periods, to embrace solitude. It will be rewarding though, to work towards embracing solitude. In the difficult times just remember:
"If your heart is bleeding, make the best of it."
~Tanya Davis
Here is the video of Tanya. I hope it resonates for you as it did for me.