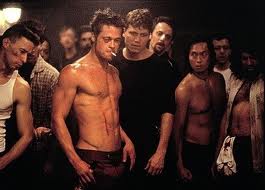 "How much can you know about yourself if you've never been in a fight?"
~Fight Club
There is truth in this statement for life in general, but specifically in relationships. Learning about a new partner in a relationship, many things should be considered. Physical attraction, sexual chemistry, similar interests, compatibility, and communication styles are just a few things to learn about the other person. If there are children from previous marriages, add parenting style into the mix. I firmly believe how someone fights is also essential in evaluating compatibility in a partner.
I have been thinking about this a lot lately because I have checked all the other items off the mental check list with The Boyfriend except one: fighting. And, like an idiot, I have been worrying about it.
There has not been one terse word, one misunderstanding, or one hurtful experience that has occurred. I do know why; it's the unprecedented compatibility and similarities I have found in him. We are both Irish and Italian, raised Catholic, both Taurus's, and even share the same birthday. The qualities that can be frustrating to others in both of us– stubbornness, fierce independence, and opinionated nature–are understood and appreciated because the other possesses the same. We have a considerable work ethic, which is helpful in avoiding conflict over work commitments on a weekend or evening. Our feelings are mutual so we share the desire to see each other as often as possible. Our favorite sport is the same, we are both runners, enjoy the same movie genres, and are both adventurous eaters. Whenever we are together, we laugh and have fun. There is just never an issue between us.
We have spent a lot of time together in the last five months without being able to discover:
Will the gloves come off and relationship-killing accusations be launched?
Will he be the one that doesn't accept responsibility or fault in anything he does?
Is "I'm sorry" something he is incapable of saying?
Will he lie to get out of trouble?
Is he a deflector–pushing blame on me to avoid being at fault?
I finally realized this week it was time to stop worrying about a yet-to-occur fight. While we have not had the first big disagreement, I have learned enough about him to guess his fighting style; he will be respectful, keeping the long-term health of the relationship as paramount in our resolution. I am not disillusioned to believe two Irish-Italian-Taureans won't throw a few good verbal uppercuts, but nothing two scrappy pugilists can't handle in a healthy, loving relationship.
Knowing what I do about The Boyfriend, it is best to tuck the scary monster back in the closet and move forward.
I have a great relationship and I simply need enjoy it.
How important are fighting styles to you?
Have you ever had similar concerns?