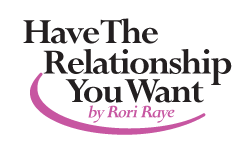 Last week I was asked to be one of a few co-hosts for a Twitter relationship chat, which led at the conclusion of the chat to inviting participants to watch a relationship coach to the stars, Rori Raye, on UStream. As we all switched to UStream, I did not know what to expect from the Q&A session with Rori, but was pleasantly surprised by her advice. There was significant eye-rolling from this writer as I read the topic for the Q&A with Rori:" How to Stand Out from Every Other Girl and Get Him to Notice You this Summer."
There might have been a cringe and eye roll over the topic actually. I am neither a Cosmo reader nor one to gravitate towards how-to-get-a-guy advice; I find the articles, which often lack substance, pathetic and demeaning to women. With that clearly stated, I loved Rori's advice. It was refreshing, insightful, and helpful.
Rori first had me hooked when she explained how to stand out in a crowd. While I expected advice on how to pimp yourself out with the focus on physical appearance only, Rori's advice was to love yourself first. Rori explains that is something unique in a sea of eligible women. I agree that a woman who loves herself just naturally stands out because of the happiness, inner peace, and confidence she can exude. Once I heard this advice from Rori, to work on the inside first, she had me attentively listening to each piece of advice she gave for the remainder of the video.
Rori spoke of roads we can travel on in pursuit of a loving, healthy relationship. Only one is the correct road. She states physical, mental, and spiritual/energetic are all three incorrect paths to love. The one leading to success? The emotional one.
I could give you more details on these roads, but it is better to watch Rori explain it. She is a bit nervous with the taping session in the beginning; continue watching though. She becomes more comfortable and the great advice begins to flow.
Rori mentions briefly her concept of Circular Dating in the video. Here's more information on her concept and how you can learn in greater detail:
"Circular Dating is free therapy: when you date the guys who show up in your life, you won't get hung up on any one guy. you also learn to build chemistry by slowly trusting a man and letting your 'inner fire' come out-with a man who's truly good to you. Don't let your chemistry meter allow you to accept less than the behavior–and the love-you deserve."
To learn how to do Circular Dating, step by step, subscribe to Rori's free e-newsletter. You'll discover a whole new way to relate to a man-from the moment you meet him, all the way through commitment and marriage-so that you finally have the secure, loving, lasting relationship you've always wanted.