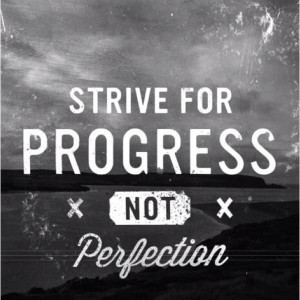 The drive to be perfect- it's an unwelcome quality still hanging on from my marriage. I battle this urge to aim for perfection in an attempt to extinguish the last bits of this nasty characteristic.
While my old life was a well-orchestrated, focused attempt at perfection, it is time to recognize no one, but especially a single, working mom, will ever be perfect.
The married me focused daily on being perfect. It kept a chronic disease from slipping into remission, created stress, and made me incredibly unhappy. But striving for perfection was a great diversion from what I didn't want to face in my marriage.
The single me loves my new life. It is more complicated being a single mom, but in many ways much easier than the life I was living before the split. I am more relaxed, happier, feel more free to live my life, and I laugh daily.
The days I can embrace imperfection are my best. But too often I find myself with an unrealistic expectation of what I can accomplish or what I can comfortably handle. If I am not vigilant, the old perfection-seeking habit will creep back into my life.
Like yesterday, for example.
After someone complimented me on how well I am handling the balance of work and summer break for the kids, he received an unenthusiastic thanks for the compliment. When pressed, I explained recently I have been going to bed thinking of what more I should have accomplished, how I have fallen short that day, and trying to figure out what needs to be added to the next day as a result.
The feelings I had yesterday resulted from the frustration with all that was required to coordinate the day. A day that was busy with kids, work, grocery shopping, cleaning, a quick run, preparing to teach, and an afternoon that looked like this:
4:00- Drop Princess Daisy at tennis
4:30-Feed Monkey an early dinner and eat with him.
5:00-Pick up Princess Daisy from tennis
5:30-Drive Monkey to All-Star Baseball practice.
6:00-Hand-off Monkey to coach, who will drive him home after practice. Start drive to school.
7:00-10:00-Teach
10:45-Relieve babysitter
The critical, perfection-seeker in me wanted to focus on these thoughts as I was falling asleep last night:
I would have liked to spend more time hanging out with the kids earlier in the day, but I needed to work.
I would have enjoyed running a distance longer than three miles, but did not have the time.
It would have been great to finish the laundry, but it was too busy of a day.
Instead I spent time thinking about the successes of the day:
Princess Daisy spent the morning with her friend.
The kids enjoyed the pancakes I made for breakfast.
They had a fun afternoon at the pool with friends.
I squeezed in a run, which was better than not running at all.
The afternoon schedule was tight, but it was a success.
I enjoyed the students in my class last night, feeling a sense of accomplishment in helping with their pursuit of being successful bloggers.
Yesterday wasn't perfect, but I fell asleep happy.
It's progress.