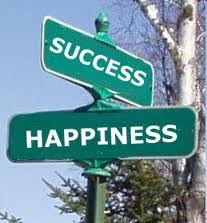 When you hear someone mention a "successful person," is the assumption this person has a healthy work-life balance or is happy?
Of course not.
The implication is financial wealth or status. It is how we are trained to evaluate success as a society. But as someone who emphasizes happiness over wealth, I am not one to fit in with this societal norm. And yet I must admit, I forgot the definition of success this year.
The more widely-used definition of success has a reference to prosperity and popularity, but the first definition of success in the dictionary is this:
Achieving an aim or purpose
Depending upon the interpretation of success, 2012 could be viewed as both successful and unsuccessful for me.
The financial item in my business plan goals for the year was reached at the end of April. Realizing this, I didn't stop prospecting and accepting client projects. Instead of checking the box and moving on to other items, I continued to pour energy into the revenue aspect of the business.
While I was busy consulting, I did not have time to build my consulting business website.
With focus on teaching at a photography school, there  was little time to create my own photography website.
As I ran social media campaigns for clients, there was never enough time in the day to focus on my own campaign.
Additionally, a collaborative blog I have wanted to launch for over six months is nothing but a purchased domain name. I also believe there is so much more I could do to promote the social media site for writers, Studio30 Plus.
More important than the above-mentioned business goals and project aspirations, I want to be successful personally. I want to be happy, feel relaxed, and enjoy the people who mean the most to me in my life.
Here's the great news: we are only six months into the year.
I have decided to re-focus my efforts for the next two months on these goals:
The kids and I will check off as many items as possible on our 2012 Summer Family List.
I will spend some lazy summer days reading.
There will be a lot of dinners on the deck, water balloon fights, and significant s'mores consumption.
Other items on my business list will be checked off.
I will not prospect, which will lead to time for the rest of this list.
It's never too late to rethink the definition of success.
What does success mean to you?
Please share!