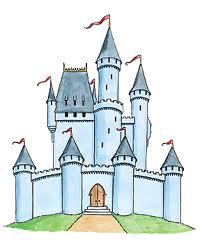 Last week I wrote a piece focusing on storybooks and relationships, complaining essential lessons about love are not in these books. I then discovered a storybook last weekend that does teach a wonderful lesson to children. A lesson I just learned at 43.
Two special little girls in my life have a book called Claire and the Unicorn: Happy Ever After.
I had an opportunity to read this book last weekend, proving once again children have much to teach us whether it is sharing their wonder with small things in life or simply a cherished book.
The protagonist, Claire, asks her father what made the characters in a book he read to her live happily ever after. Her father told Claire to think about that as she falls asleep. In Claire's dream her favorite stuffed unicorn takes her on a trip to meet fairies, princesses, and a prince in search of what "happily ever after" means.
Here's what Claire discovers on her journey:
The library fairy says it's a good book and peace and quiet.
Princess (Princess and the Pea) explains it's a good night's rest.
The prince (Frog Prince) states it's a nice, big, juicy fly.
Fairy godmother tells her no one ever has the same wish.
The next morning Claire's father asks her if she has an answer to what it means to live happily ever after. Here is Claire's response:
"It depends. A very tired princess may just want a comfortable bed. Another princess might be looking for true love. A frog prince would be happy with nice, juicy flies."
Claire learned how unique "happily ever after" is for each person. Hopefully she also understood that a prince and princess have to agree on what that looks like now and in the future to be happy together. At least that is what this 43-year-old realizes now.
While I have made great strides identifiying what qualities I am looking for in a man, I stopped with that mental exercise. My effort has been to focus on the search for Prince Charming, but not what happened when he showed up. I am not suggesting I need a clearly-defined future with no room for input from a partner, but without any idea what I want "happily ever after" to look like with a would-be prince, significantly different views can't be identified as easily. Just like needing to match each other's list of qualities we desire in a partner, so too does our outlook on life, priorities for love and relationships, parenting, desire for the future, and more.
As my longtime readers would expect, I am now deep in thought about my own happily-ever-after description. It's time to decide what I would like my future to look like and what would make me happiest when I find Prince Charming.
Tell me: what does "happily ever after" look like in your own story?
So your little princes and princesses don't have to figure this out in their 40's, I recommend buying the book.