Learning to See the Exit Sign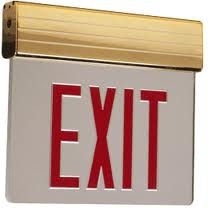 Do you see the sign to the left? I am told by a reliable source it is an exit sign. I can't see it because I have a rare visual disorder that only affects my ability to see exit signs. As you would imagine, this is very dangerous in case of emergencies. And I seem to have emergencies that require my ability to see the signs.
I believe, even with rare conditions such as mine, that if you work hard, you can overcome anything. So while this is a unique handicap, I refuse to just accept it, allowing this disorder to negatively affect my life.
When it becomes apparent over time that men I am dating have no friends, bad relations with family, strained relationship with their children, speak poorly of co-workers consistently, or are borderline hostile with many, including strangers, I see this:
When men I date have little or no parenting skills, don't respect the importance of my children in my life, see parenting as a box you check off when financial responsibilities end at 18, or don't make an effort to even have a casual relationship with my kids, others are able to see this, but I cannot:
When men I have dated have been controlling, manipulative, inflexible over important issues, deceitful, or unfaithful, this has continued to be the sign I have seen:
Why I can't remove myself from relationships I know are feeling less fulfilling over time, have warning signs that should not be ignored, or are causing me angst is something I have spent time contemplating over the last month. I am fearful, terrified actually, to find my impairment hasn't improved months into the next relationship. Something new has become a concern as well. Once I have the ability to see an exit sign, I am not sure when it will actually be the right time to follow the exit route.
In my last relationship I saw two red flags on our fourth date. Those two separate issues, nine months later, were the two most prominent flags flying high at the end of the relationship. I see it now, but should I have ended the relationship abruptly at that point? I ultimately fell in love with the man and we shared good times, but there were many months of the flags moving higher up the pole and new flags being introduced, but without me being able to find the exit sign.
Now I am fearful this is what I will be able to see the next time:
Page 1 of 2 | Next page