It's still summer. If you are like me, that means you are barefoot as often as possible. And, when wearing shoes, they are flip flops or comfortable sandals. For examples, here's a shot of my happy, shoeless feet enjoying the cool river water running over them on vacation last week: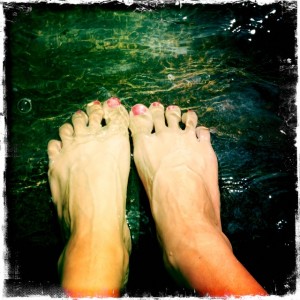 But sadly, the end of summer is rapidly approaching. With it comes the return of these: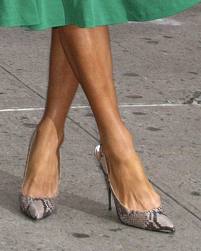 Are you cringing at the thought of squeezing your tanned, happy-to-be free feet into restricting shoes again this fall? Fear not! There's actually a line of products that will help with the transition from flip flops to stilettos.
Foot Petals recently sent me two packages of their products to try. Killer Kushionz provides full insole support without being visible in an open-toed shoe. The other product I was shipped, Tip Toes, is a ball-of-foot cushion to keep your foot from sliding forward into the painful pointy toe of the shoe.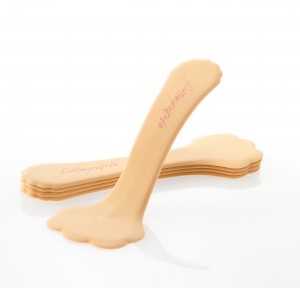 The company has several more products in their line I didn't try, but will be ordering. Stiletto Shieldz is a heel protector strip to prevent heel scuff. Another product I would like to try is Strappy Strips, which provides cushioning to sling backs.
Foot Petal's entire product line creates added comfort and a better fit to any shoe you couldn't live without, but is a bit uncomfortable to wear. From the two products I have tried and learning about their other innovative items to save our feet this fall, I highly recommend for any high-heeled shoe aficionado.

Have you tried any of the Foot Petals products?
If so, leave a comment to share your experience.