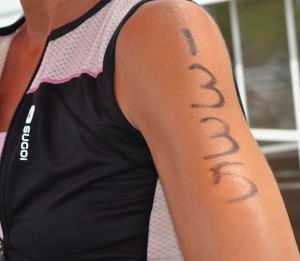 Married Me would rise most weekday mornings at 5:30 to run at least six miles. One weekend morning each week she would typically run 10. Her cycling would never be shorter than a 20-mile ride. Swimming in the summer was a mile a day, five days a week. Winter months would involve 1.5 mile swims twice a week. She could enter a sprint triathlon without any special training, completing the race comfortably. Married Me could even compete in olympic distance without much of a struggle.
Single Me ends each week, resolving to train more the following week. She has a plan, but can rarely execute the aggressive training schedule. There are no 5:30 am runs. A good week involves a couple of rides with the bike in the trainer. A great training week involves a swim or two. Single Me is racing a sprint triathlon this weekend, terrified she won't be able to make it across the finish line. An olympic distance would require her to add more hours to the day, which she has been unsuccessfully attempting for several years.
Single Me is frustrated, chasing after Married Me, but never able to catch up. The two battle each week. Married Me flaunts her fitness level and available time to train. Single Me peers at her accomplishments with envy, bringing about a feeling of inadequacy. Single Me is beginning to give up hope in ever catching up to Married Me.
Married Me has a bit of envy as well. She sees in Single Me something she never had in her life. Married Me observes Single Me laughing deep belly laughs daily. She sees a mom enjoying being present in the moment with her children, focusing on their happiness over the arrangement of throw pillows or a closet organization project. Married Me has watched from afar Single Me loving deeply, feeling fulfilled in a relationship, and experiencing a satisfying love in return. She sees someone who is passionate about work, life, love, and friendship. Married Me has also witnessed Single Me sleeping peacefully through the night, enjoying solitude, and relishing her "me" time.
Single Me is jealous, but also grateful for Married Me giving her the greatest gift: motherhood. She loves each moment she juggles the morning routine, sports practices, homework, hosting play dates, drying tears, giving high fives, and tucking her kids in each night. She embraces this gift daily, and does recognize what amazing kids Married Me has given her.
Married Me lives in the past, and I can't help her. My focus is on helping Single Me to release her jealousy, and only focus on her gratitude. Instead of being envious of Married Me's fitness level, I am trying to coax her to use it as inspiration.
Part of my success will come from convincing Single Me to set realistic training goals based on her current life, not using Married Me's abilities as her measuring stick. With Single Me competing in her first triathlon in 15 months this Sunday, I hope she will cross the finish line simply proud to step over the line, with no comparison to PR's set by Married Me.
My wish for Single Me is seeing life as it is now.
Owning it.
Embracing it.
Celebrating it.