Standing at the edge of the lake early Sunday morning before starting the swim for Iron Girl Rocky Gap triathlon, many emotions were brewing. I thought about what was happening in my life the last time I competed in a triathlon, which was 15 long months ago. So much had changed. I was now divorced, had a thriving business, and was a graduate of a professional photography program. Life was on the right track. It felt good, in that moment, to look back and see how far I had come in my life.
Wondering whether my fitness level was good enough to make it through the entire race was also something I considered. Life had changed in so many positive ways in the last year and a half, but so too had my training schedule. My greatest concern, after not being able to cross the finish line, was a worry about being kind to myself in evaluating my final results. I didn't want comparing my results to Married Me to eclipse the accomplishment of simply completing the race.
The typical battle to keep the adrenaline at bay before a race start didn't exist Sunday morning. My trepidations had taken hold of me as I waited for my wave to enter the water. I couldn't shake the feeling that I had not trained at a level to give me the confidence I needed for what I faced that morning.
1/2 mile swim.
16 mile bike.
3 mile run.
As I waded into the water to wait for the starting horn for my wave, my fears began to evaporate. There wasn't a sudden feeling of confidence in my abilities, but rather a refocus of my attention. The water was clear and beautiful. The rising sun was dancing on the surface, and the water was warm; it felt wonderful. The fog was lifting off the surface of the water, the mountain range surrounding the lake was breathtaking, and the sun rising over the mountains was a beautiful sight; I was lost in the moment.
Five strokes into the start of the race, I realized I wanted to savor this swim. It was a pristine lake in a gorgeous setting. My desire was to remember the beautiful view I saw with each breath I took. The race was secondary; it was a feeling I have never experienced in competition.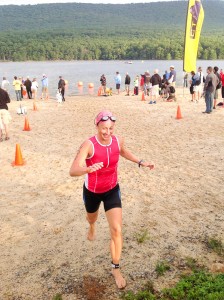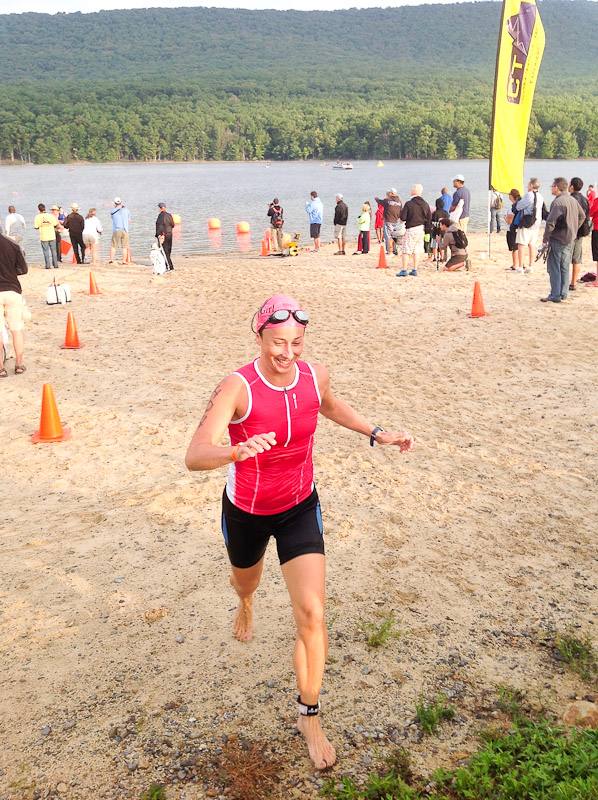 Looking at my watch as I emerged from the water, I realized my swim was five minutes slower than would have been my time for a half mile. Instead of feeling frustrated, I smiled. It was the greatest swim experience, and I didn't care about the time on my watch. I was confident my end result would be slower than races I had competed in before, but those times were set by the old me: the Married Me who had more time to train. Relieving myself of these expectations so early in the race felt great.
Last Friday I wrote it had been 15 months since I last competed in a triathlon. Today, however, I can state it has been 48 hours. While my entire body was sore Monday morning, I was so happy with what I had accomplished. Not simply about completing the race, but for keeping my expectations in perspective and being kind to myself.
My athletic endeavors had to be reduced as I worked my way through a divorce and photography school as a single mom. It was frustrating, but it became immediately apparent I would not be able to train at the level I had in the past. Over the last 15 months I have competed in a few running races, but nothing that was a test of my abilities. 
Sunday, however, was all about pushing myself outside a comfort zone. As I neared the finish line I realized I wasn't crossing that line frustrated because Married Me would have been faster; I was proud to simply be there.
I felt free of my past.
I was happy.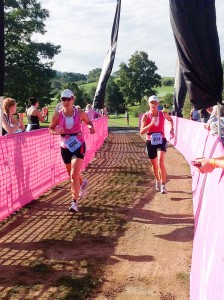 Note: Thank you to Robert Vigorito, TriColumbia staff, and volunteers for making Iron Girl Rocky Gap 2012 such an incredible experience for so many women. I am appreciative to have this venue added to the long list of professionally-run sporting events you hold each year.