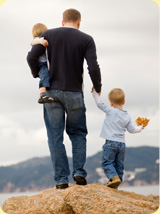 Admittedly, I don't have all the answers to life, love, and parenting; I simply opine on the topics based upon my personal experiences and observations.  Quite often when I write on a particular subject, something wonderful happens: people leave wise comments, enriching the dialog I begin with my post. In August just such a discussion evolved from a piece I wrote about struggling to know when it's the right time to end a relationship. I am thankful Marie Nicole gave me more to think about when evaluating relationships as a single mom through the comment she left. Here's what Marie Nicole (from My Cyber House Rules) wrote:
"So, when DO you call it quits? When your little voice says ouch. When you look at the man and ask yourself, 'If I were to leave town on business, how would I feel leaving him alone with my children overnight, for a weekend, for a week?' And if your answer is a solid 'Bah. No problem, they'd have a great time' then stick with it. But, being a single mom-I think you have to tell yourself that if the answer is anything else than that then-ditch. Walk away. Follow the exit signs."
Not only have I ruminated over her words since she left the comment, but even more so recently as I have been presented with a real-life scenario similar to the example Marie Nicole shared. This week I am teaching an evening course and am without childcare for the kids. Unhesitatingly, I asked Sean if he was available to spend the evening with Princess Daisy and Monkey. This means Sean will have to be in charge of dinner, homework, and bedtime routine in my absence. For me, this was a significant request to make of him. In the moment I realized I wanted to ask Sean, it became clear how comfortable I am with him related to parenting, being in my kids' lives, and as my partner.
It's not that I have dated pedophiles or men who would hurt my kids, but I have chosen to keep my love life separate from my family life for the last several years. With Sean, though, I made a conscious decision to involve him in our family life in the early stage of dating. I knew this time I wanted a partner instead of an every-other-weekend boyfriend.
I don't like to say Sean has been given a series of tests, but candidly, that is what has happened. I have observed Sean with my kids, his children, and my neighbors' kids. We have also spent time with the kids doing various activities as a couple with children. It was a frightening decision to test out a new guy on the kids after keeping that aspect of my life separate for so long, but I am glad I took the risk. As a result, I have learned Sean has what it takes to be The Guy; he's partner worthy.
Have you reached a level of comfort in relationships to have the person you are seeing care for or spend time with your children?
What has been your experience?
Please share below.