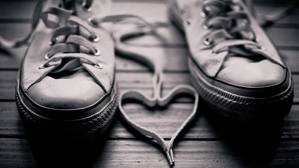 Readers have been on a roller coaster with me, sharing my excitement over a new relationship, and my tears at it's conclusion. I write from my heart, sharing it all.
When it comes to commitment, I prattle on about breaking out in hives whenever anyone mentions the M-word (marriage) and F-word (forever). It's a stressful concept for me to think in these terms for a simple reason: if you think about it, you hope for it, and you set yourself up for inevitable disappointment. Somehow, with the realization this is a big issue for me, readers continue to come back, devouring my relationship "advice." According to Google Analytics, they love my advice, actually.
Thinking about relationships over the last four years and my writing, I recognize there were a lot of "firsts" related to Sean. When we first met, I was in the throes of serial dating, completely dedicated to the public declaration I made here at Naked Girl. Becoming serious with Sean would get in the way of my serial dating chronicles, which is one of the many reasons I put off any initial overtures on his part; I actually let my writing guide my love life for a while. And unlike everyone else I have dated, when I started writing about Sean, he chose his real name to be used on my blog, completely embracing my writing endeavors, and the medium in which I choose to publish. I also found it hard to be honest with readers regarding the extent of my feelings. If I did, would it end with me writing with tear-filled eyes as I explained it's demise? Could I really say, "But this one is different" without a collective giggle being heard across the internet?
It's not surprising to me how my writing was affected by Sean because nothing about this relationship is like any that have come before. Instead of keeping him away from my children, I thrust him into our family life early, watching to see if he would connect with my kids or not. Sean was dragged to numerous social gatherings with my closest friends to discover his social skills as well as his comfort level with people who are special in my life. Instead of keeping doors to messy rooms closed, he received an early, full tour of my less-than-perfect home. Through all of this, Sean has maintained a steady commitment with his feelings for me and our relationship, regardless of how hard I attempted to chase him away. The man has handled each challenge I have thrown his way with ease, a great sense of humor, and an unwavering commitment to give everything he has to our relationship.
I love this man, and everything he brings to my life.
And in the process of loving Sean, I have learned to love the M-word and F-word.
Without hesitation, fear, or hives.
He's worth it.
"If she's amazing, she won't be easy. If she's easy, she won't be amazing. If she's worth it, you won't give up. If you give up, you're not worthy. Truth is, everybody is going to hurt you; you just gotta find the ones worth suffering for."
~Bob Marley