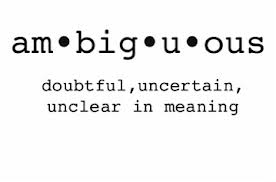 The gray area.
My own version of a mental Purgatory.
Having uncertainty leaves me spinning, looking incessantly for the answer so that I can move myself safely into a clearly-defined area: the land of black and white. But sometimes, no matter how hard I focus on something that is not clear to me, I won't discover the answer. Even though I know I can't think my way into a black or white safe ground all the time, I will try. And try. And try.
Being analytical has a lot of positive aspects, so it's not a trait I wish I did not possess. But there are times I would like to quiet my mind, and be at peace as I enter the gray zone. While I may never be able to calm my mind when an ambiguous situation arises, I can express my need to find the safe haven of certainty. I did that Sunday night with Sean, and he was able to guide me lovingly out of my mental Purgatory. As a result, I no longer worry about what was overly-concerning to me last weekend.
What I have learned in the last few years is that I can do something else to help me with managing this trait: choose my relationships wisely.  A few years ago I was in a relationship with someone who knew I possessed this quality, and chose to exploit it to manipulate me for his own personal gain. It was emotionally abusive, and painful for people who loved me to watch. While Sean helps guide me out of my mental Purgatory, others have chosen to imprison me there.
"Some stories don't have a clear beginning, middle, and end. Life is about not knowing, having to change, taking the moment and making the best of it, without knowing what's going to happen next. Delicious ambiguity…" ~Gilda Radner
I know I will never describe ambiguity as "delicious," but I am confident I won't spend much time spinning in my mental Purgatory with Sean by my side.
For that, today, I am very grateful.
What are you grateful for today?
 {This is part of a week-long series on giving thanks.}