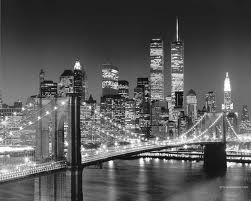 As this publishes, Sean and I are en route to New York City with our four youngest kids. Two of the four have never been to the city, which makes this trip so much more special. I can't wait to see their faces as we enter the city, see Times Square, walk through Central Park, view the city from the Empire State Building, ride in a pedicab, and experience the pace of a city like no other. Our daughters will have a wonderful time in American Girl store, and enjoy having an amazing dining experience in their cafe. Nintendo World, FAO Schwartz, and Times Square Toys R Us awaits as well.
Sean and I have discussed our goals personally, professionally, and for our relationship in 2013, but also as a family. In the next year we will phase into being a family with five children. Our weekends with all the kids together has progressed to this first trip. It will be a fun, exciting first, not just for the two children who have not experienced New York City, but for all of us as a family blending.
We can't wait. For the trip, and for the life that awaits us all.
Happy Friday!
Atypical as it may be for me to share a rap song for Song of the Week, it seemed appropriate with where we are headed for the weekend. Enjoy "Empire State of Mind" by Jay Z and Alicia Keys: