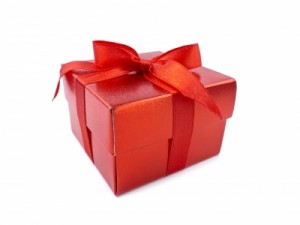 Tomorrow is the big day. It's the annual make-or-break day for men; you will be back on the market for a girlfriend after screwing up the most important romantic day of the year or, if married, sleeping on the sofa indefinitely. Thankfully, the Naked Girl is here to save the day. Even if you just started thinking about what to get the special woman in your life instead of planning this uber-important holiday 364 days ago, fear not. With my advice, you will survive tomorrow.
Top 3 Valentine's Day Gift Tips
Be creative- Are you getting flowers? It's fine if you do, but no carnations. Skip the baby's breath too. Roses are a bit overdone as well. I actually suggest wishing flowers. Explain their significance, preferably with your foot wedged in the door to avoid being slammed shut, to the special woman in your life. They are not in season right now though. And florists don't sell them. So, good luck with this gift idea. Maybe think of something else creative.
Express yourself- Share your heartfelt thoughts about the special woman in your life. As long as your feelings are sentimental and somehow tie into how lucky you are to have your woman in your life. There are tons of cards with lovely thoughts already written out. You don't have to write anything. Bonus! Warning: if you think Valentine's Day is a Hallmark-driven, commercially-fabricated holiday, keep those thoughts to yourself.
Make her happy-Admittedly, this seems the most difficult. If you are reading this post the day before Valentine's Day, you obviously needed my professional advice because you couldn't figure this one out on your own. Think back over the last several months (the times when you were listening to what your loved one was actually saying), what did she say she loved? My guess is that she has been dropping hints for you the last few months so you know what she wants if you focus just a little bit.
As a famous relationship writer, I know every man reading this will be clamoring to follow every detail I have provided. But I must also send you to another relationship expert: Ned. Specifically, Ned from Ned's Blog. It's important to get the female and male perspective before finalizing the special day for your woman, and Ned's your guy. The advice to visit Ned is as solid as the wishing flower advice. I swear. While I can tell you to express yourself, Ned can break it down in guy-speak to explain exactly how to do it. He understands his species on a level I will never understand. A good example:
"It's not that we don't want to be romantic. We just have a hard time expressing our emotions and allowing ourselves to become THAT vulnerable again so soon after the Super Bowl."
So, go visit Ned and tell him the Naked Girl relationship expert sent you to him for the last bit of help. Between the advice we both give, you too can survive create the day and evening of your lovely lady's dreams tomorrow.
Disclaimer: While, as a relationship expert, this is my professional opinion, I am not liable for any of the advice (especially the wishing flower idea) negatively affecting your relationship or the chiropractic care you might need as a result of your new sleeping arrangement.