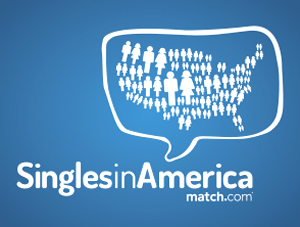 I opine on the subject of being single and online dating based upon my personal experience and that of friends. The stories are fun (and sometimes sad) antidotes on the state of dating at this time in our lives. Today I am happy to share a much more comprehensive report on the state of dating based upon a study conducted by Match.com.
The results of Match.com's Singles in America study was just recently released. Each of the three years Match has funded this research, there has been a particular aspect explored. This year was technology/internet and marriage. It was fascinating for me to watch the video of Dr. Helen Fisher present the findings.
A few of the interesting facts:
–The most common answer for where people meet potential dates: online.
I am not surprised, but it still seems something people are embarrassed to admit (looking online for a relationship).
–When women and men were asked what they "must have" or was "very important" in seeking a partner the top three answers were:
Someone who respects me (men: 96%; women: 98%)
Someone I can trust and confide in (men: 95%; women 99%)
Someone with a sense of humor (men: 91%; women: 97%)
Looks were number four for both genders.
–Both genders judge the other by (top two answers for both): teeth and grammar.
–Men fall in love more often than women (men ave. 4.2 times, women ave. 2.8 times).
There are a lot of other interesting facts shared about people dating and married in the report. If you are single or interested in the shifting trends between single and married, I recommend you watch the video below. Dr. Fisher covered a lot more information than I am sharing, and there's more fascinating information for you to discover.
What are your thoughts?
What do you think is trending related to being single and dating or for committed relationships?
Was anything surprising?
Note: This is a sponsored post for Match.com, but the views are my own.