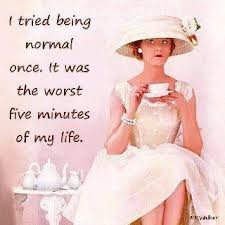 Yesterday I posted about the unusual living arrangements Sean and I have chosen for our family. I stated I recognized it's not normal, but that it works for us.
What I received in return for publishing this post was a reminder from my readers to focus on what best works for us–however non-traditional it might be–instead of comparing us to what society sees as normal. What's "normal" can be an ill-fitting solution and actually cause more harm, which I believe would happen to us if we had not made the choice we did regarding our family's living arrangement. I learned this lesson during my divorce, but somehow I had forgotten it.
Several years ago I was told by many–including divorce lawyers I hired and fired–that it wasn't normal to handle my divorce the way I did. The amicable relationship with my ex isn't seen as normal either. I am sure the same naysayers would think it wasn't normal I have become friends with Sean's ex either.
What I have been reminded this week, thanks to my wonderful readers, is instead of comparing my decisions to what is normal, I should simply focus on what is normal and right for us. I have no fear of stepping outside what is the norm, but it's good to be reminded I am not alone in choosing a different path.
"Normal is nothing more than a cycle on a washing machine."
~Whoopi Goldberg