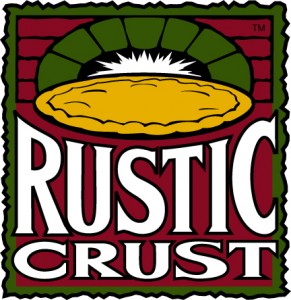 I get offers for sponsored posts regularly, but none excite me more than an opportunity to try and write about a gluten-free product. Any chance I have to discover something new I can eat is the best. So of course I accepted the offer to try Rustic Crust's 100% all-natural, gluten-free pizza crust and tomato sauce.
Rustic Crust is the country's leading all-natural, ready-made pizza crust. It's made with all-natural premium ingredients which means no artificial colors, flavors, trans fats, hydrogenated oils, GMO's, or preservatives. While I was most interested in the gluten-free crusts, Rustic Crust also offers whole-grain and organic varieties. The gluten-free crusts are also dairy and egg free as well, which is great news for people with other dietary restrictions.
What I hoped for with Rustic Crust is that it would at least be crisp, but possibly flavorful as well. With the first bite, I was thrilled it exceeded my expectations. Some gluten-free crusts can have an overpowering taste or texture, which Rustic Crust did not. And it was crisp!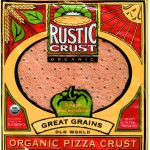 As a busy, working mom, I highly recommend Rustic Crust. I love when I can feed my family quickly and easily, but without compromising on taste and health benefits. Rustic Crust will definitely become a regular in our home for pizza nights.
Rustic Crust is offering a special for my readers. Click the coupon image to download for $1 off your next purchase of Rustic Crust.
Enjoy!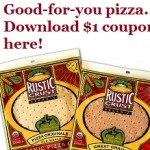 Note: While this post is sponsored by Rustic Crust, the opinions of their product are my own.