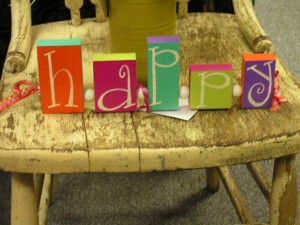 Yesterday a few people in my life disappointed me. The more I thought about the situations that had occurred, the more I became upset. By dinnertime my frustration level was high and I found myself feeling disappointed, but also angry. The kids and I had a fun evening planned and I was concerned my mood was going to affect our time together. These negative feelings were invading my thoughts and I risked denying myself of an enjoyable evening.
In my pursuit to be the naked girl in a dress–free, happy, uninhibited–I have worked hard to regain happiness at low points on this journey. I have found ways to work through my feelings to capture happiness once again.
Here are five tips on moving towards happiness:
1. Practice mindfulness. Stop. Be in the moment. How are you feeling and why?
2. Exercise. Run, go for a brisk walk, go for a swim, take an aerobics class, or anything that will get your heart rate up. Regular exercise will stimulate the endorphins in your body.
3. Express your feelings. Keeping feelings inside will make you feel worse. Call a friend to talk about how you are feeling. Write your feelings in a journal. Start a personal blog. Tell the person who upset you how you feel.
4. Count your blessings. By focusing on what you do have and what is positive in your life, you will recognize you are fortunate.
5. Laugh. This may seem like a difficult thing to achieve if you are not happy, but to be able to laugh will lighten your mood. Rent a funny movie. Read humor blogs or books. And, the best advice to add laughter in your life, surround yourself with people who make you laugh. You probably feel happier around these people as well.
Yesterday I worked my way through these five steps. However, I was not completely happy at the beginning of our evening. One of my friends was out with us who always makes me laugh. This friend is also a good listener and listened to me rant a bit. Spending time with our four kids, I realized how blessed I truly am in my life; while some people disappoint, the 5 people surrounding me last night are consistently a source of joy in my life. Last night I was blessed to spend time with wonderful people.
This was progress for me. I was able to acknowledge how I was feeling and allow myself the opportunity to process these feelings. Then, in my pursuit of happiness, I worked towards letting the negative feelings go so that I could enjoy the rest of my day.
Mission accomplished.