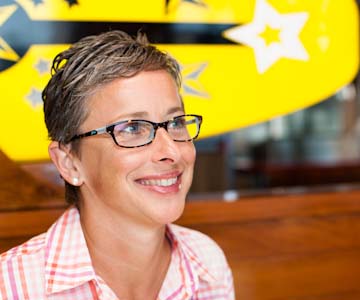 My name is Kelly Dillon (formerly Sajonia). I write here, run a full-service digital media agency, and am co-founder and editor of Gluten-Free Foodies Review. Oh, and I take the occasional professional photography gig. While it sounds like a lot, it's the perfect mix of what I love. I am fortunate to have found the right balance.
I also describe myself as a mom, baseball fanatic, foodie, oenophile, voracious reader, and runner. I live outside of D.C. with my husband and our five kids.
This blog was born in 2010 with the idea to chronicle my journey to become a naked girl in a dress, and to possibly inspire a few others to join me along the way. I found myself in pursuit of this goal following the separation from my husband in 2008. What I stated then–and I continue to assert now–is redefining life at any age is possible. To this end, I often write to inspire with a focus on happiness and gratitude.
While I have admitted to not knowing what I am doing in my own romantic life, readers seem to love my relationship advice. There have been tears shed (my own), crazy date stories, online dating advice, and experiments in new dating strategies.
Stubbornly focused on not committing to a serious relationship (I may have said "never again"), a guy I started dating showed me through his actions the true definition of tenacious. This led to our engagement and my newest journey: blending a family with my best friend and husband. Every day with him is filled with love and laughter–something I never expected to find.
I try to be funny at times, attempt to keep my opinionated rants to a minimum, and share my stellar parenting skills on occasion. Oh, and there's always a song of the week–typically on Fridays.
Writing in this medium is truly rewarding. I have the honor to learn of stories and personal experiences from readers, get feedback on my writing, and receive advice from my visitors. I hope you will become part of the community here. Grab a drink, put your feet up, and stay a while.
I am happy you are here.