Writing my 100th post feels a bit like writing my first; there is tremendous pressure (albeit self-inflicted) to recognize this milestone properly. Add in that the 100th post coincidentally is on the 11 month anniversary since my first blog post. This almost makes it an impossible writing assignment to tackle.
I decided to just roll with it and write what first comes to mind. No fretting or macerating to find the perfect approach to writing this piece. Writing about my excitement over what has happened in the last month and where I am heading in the next 30 days is what I want to share most.
Update from the last month:
1) I started writing for Sprocket Ink. This incredibly funny approach to news reporting is already rocking the internet. I am having more fun than should be allowed. Seriously.
2) Readership was up significantly last month. I had a lot of regular readers, but a lot of new visits too. Thank you for continuing to read my blog and tell others about it. I really appreciate your support.
3) I exceeded 1000 followers on Twitter, which was a big milestone for me. Twitter has been a great way to expand my readership and connect with other writers. So many opportunities have come from being a part of this social media site.
4) Last Friday the Song of the Week featured Mat Kearney. I tweeted about the post and Mat Kearney actually TWEETED BACK TO ME. And he read my blog post or he could not have tweeted this comment. Yeah, I am still a little excited over this one.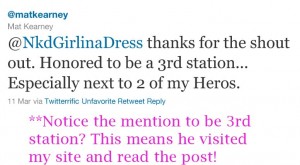 Where I am headed in this month:
1) I am bringing back Blogs to Bookmark. There are so many wonderful bloggers I enjoy reading and it is time to start sharing these great writers again.
2) Now that I am writing for three other sites, I will start a weekly wrap-up a la The Bloggess. This will give you the opportunity to follow me other places on the internet.
And, for Song of the Week, of course I will be sharing another Mat Kearney song. Did I mention I love this man? He is awesome. A great talent that I am happy to share again this week. Here's "Breathe In Breathe Out."
Thanks for reading, promoting my writing, and leaving inspirational comments. 100 is a big number; I could not have made it this far without the reader encouragement to keep moving forward.
Happy Friday!