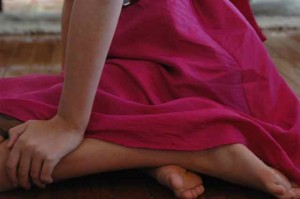 At the age of 3 my daughter gave me what later would become my mantra while trying to find myself after separating from my husband. Princess Daisy was exhilarated swinging up towards the sky on a particularly beautiful day (blue sky, no DC humidity yet). She screamed,"Mommy, I am a naked girl in a dress!" She felt so free, happy, and uninhibited. This moment with her was so brief and yet, 7 years later, I still remember it vividly. It has resonated for me during this difficult time in my life because I want to capture that feeling as I rediscover life.
Free
Happy
Uninhibited
I was also 4 months shy of my 40th birthday when my husband and I separated. This gave me even more to contemplate. Was the first 40 a dress rehearsal? Have I really hit mid-life? What was I going to do now that I was divorcing–both professionally and personally? During the early months of separation, I was constantly asked by my friends:
"What are you going to do?"
I wasn't really sure WHAT I was going to do, but I had a single response to the question:
"I am going to be happy."
Join me on this journey.