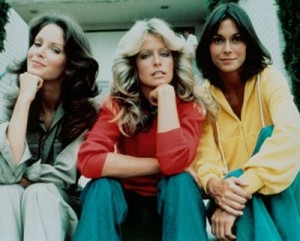 Who did you want to be, when playing pretend with your friends? Was it the Bionic Woman or the Six Million Dollar Man? How many desperately wanted to be Wonder Woman, with the awesome bullet-deflecting cuff bracelets? Did you fight with friends over which A Team character you would play?
My after-school adventures, when I was saving the world from bad guys, usually involved Charlie's Angels. It was never easy to sort out who would be each of the Angels so we could start playing. Fighting often ensued over which Angel the other girls would be. I was always the Angel I wanted to be, not because I bullied the girls into allowing me, but because no one wanted to fight me over my favorite Angel: Sabrina. The smart one. The least glamorous one. The anti-fluffy hair one. The awesome, orange Pinto-driving one.
Why am I blogging about this?
Isn't that what is coming to mind at this point in my story?
There really is a point to this. I promise.
This week a friend and I have been exchanging texts of random facts from our childhood. It has been fun all week to hear the iPhone text ring and know something insignificant about him awaited (he liked salting slugs). After sharing the information about Sabrina, I realized there is no irony in the choice I made as a child; I was striving to be a strong, capable woman at an early age. I wanted to be the smartest, most independent, and capable Angel in the bunch. This thought, 35 years later, has put a smile on my face all week.
Why?
Because I still think being smart, independent, and capable is something to strive for in me and admire in others. These are also qualities I am trying to instill in my daughter.
The only thing that has changed, 35 years later, is that I no longer covet her wardrobe or want to drive an orange Ford Pinto. I am, however, still searching for Wonder Woman's bullet-deflecting cuff bracelets. Now THAT would be the most awesome fashion accessory ever. Seriously.
Here's a video I found that highlights Sabrina, the super-cool Angel of the 70's. It is set to Dolly Parton's song "9 to 5," which adds even a bit more campiness to this video experience.
Who were you when you played pretend with your friends?
Are there any similarities today?
Note: This piece today was inspired by the writing prompt at Studio30 Plus this week. The prompt: Irony