The first guest post of the summer is Brandon Duncan of Brandon the Duncan. Brandon's tagline is Daddydom in 4L (Living, Learning, Laughing & Loving it!). He's a great writer and a positive person. He provides inspiration for parenting on his great site. Read what he shared here today and then go read more from Brandon on his site.
~~~~~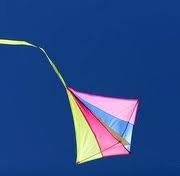 Ahhh… Don't you love an opportunity to invade someone else's space and be given free reign? And there's so much to play with here—I don't know what I want to mess with first!
I'm kidding, obviously.
I met the resident Naked Girl a few months ago—of course her name sparked my curiosity… In my defense, I may have met her based on a few image-inducing words, but I stayed to get to know her based on her impressive ability to craft them. I am truly honored to be asked to guest here.
The N.G. told me a few months ago that she liked my perspective on being a dad, so, not having any guidelines for this post, I decided to tell you a story from my early, inexperienced 'daddydom'.
~~~
I was twenty-three (which basically meant I was still immature). My twin sons were three. We needed to get out of the house, and I wanted to do something cool with them. I called up a buddy and asked if he wanted to tag along for an afternoon of… kiteflying.
Harmless enough, right?
Never mind how awkward the sight would be. I stand an even six feet and weighed in at 220 lbs at the time. My buddy had me by three inches and nearly a hundred lbs. Did I mention that we were going to a busy public park…in a college town? Not the sort of thing you see every day.
After nearly killing ourselves deftly placing the car seats in the back of a late nineties model Thunderbird and getting the tikes buckled in, we were off. Of course, in the six hours short time it took to get them in the car, they, as toddlers do, ended up having to pee.
Awesome.
Rather than go through the effort of extracting them, we decided to just hurry up and get to the park. It didn't take long to get there, but the bladder sizes of three year olds who resist potty training with every inch of their souls is nothing to test. We jumped out of the car as soon as he threw it into park and were off.
Locked.
Naturally.
I'm happy to report that the cedar trees in the park got a good watering that day. I'm a good citizen—I try to do my part for the environment. (The boys got a good giggle out of the new experience also.)
After the potty emergency was remedied, we headed for the car to retrieve our kites. After I grabbed them, he started to slam the trunk lid.
Ever see one of those movies where the character's voice goes all deep and the air turns to molasses, making quick movement impossible? It happens, people.
Resting on the side of the trunk opening was a sweet, unblemished, three year old little paw. I exclaimed a deep, long drawn "nnNNNNNOOOOOOO…" and did my best to reach, slap, grab, push save the child from impending doom… to no avail. After witnessing his tender little fingertips disappear into the gap between the lid and side of the trunk opening, the real comedy started—in fast forward.
I was franticly screaming for him to pop the trunk lid, his remote didn't work, and my son was getting scared because we were freaking out. My friend then decides to grab his little wrist and pull. Yes, I said pull… hard. I again lost it and screamed the question—"What the *insert expletive* are you DOING? POP THE *insert alternate expletive* TRUNK!" He fumbled with the keys in desperation.
*CLUNK*
I immediately grab my son's hand and inspect his fingers. Thankfully, only one looked a little out of whack. Unfortunately, it also started to bleed, so I couldn't tell how much real damage was done. My friend grabs a tee shirt (white, of course) from the back seat and tried to wrap up my little one's hand. Yeah. Little hand, big tee… we rushed to the hospital, toddler bleeding down my back, on his seat—pretty much everywhere. Of course, both of us felt terrible. We just wanted to fly a stupid kite!
As it turned out, he was fine. Nothing broken, no stitches needed, just a bandage for a day or two.
We never did fly those kites. Too risky…
So tell me.
Anybody else make any big time new parent mistakes?
How did everything turn out?
Follow Brandon:
On his site