Last week I wrote about the meal service from The Fresh Diet, but promised more details this week. The Fresh Diet is a daily meal service delivered to the customer's door. A daily menu is provided, which lists the three meals, hors d'oeuvre, and dessert as well as the reheating instructions. The meals are packed in a cooler with plenty of ice packs. My meals were on my porch as early as 5:30 AM each morning.
At first I was hesitant about the sponsorship because of the strict gluten-free diet I must follow. I discovered though The Fresh Diet can make dietary accommodations, which was great news. Once given log-in access to my account, I was able to check boxes for any food/ingredients I dislike as well as allergies and food restrictions. Even when I ask for gluten-free food, I always have to be vigilant, knowing not everyone has the same level of understanding of what it means to eat gluten free. I was impressed with the D.C. Fresh Diet chef; not one meal delivered was an issue. My favorite accommodation made was the crustless quiche. Thankfully I had 3 different varieties delivered during the week.
In addition to the convenience and accommodating a gluten restriction, I discovered the food was great.
Here are a few of my favorite Fresh Diet meals from the week:
NY strip steak with mango BBQ sauce with spanish style brown rice and haricot vert
Crustless asparagus & cheddar quiche
Santa Fe style salad
Grilled chicken breast with spiced pomegranate sauce with rosemary carrot mash and multi-colored cauliflower
Grilled pineapple with key lime yogurt toped with toasted coconut flake
Assorted fresh fruit with mango yogurt dipping sauce (my kids' favorite)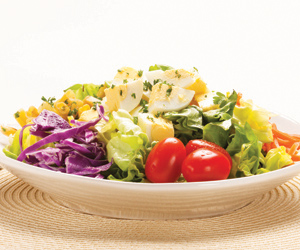 The Fresh Diet exceeded my expectations with the quality of the meals, customer service, and attention to details. As a busy, single mom, this was the answer to a busy week.
The Fresh Diet is even offering a special discount to my readers. Anyone interested in trying the meal plan will receive three days free with the purchase of the 31 day plan at $29.99 a day. To take advantage of this offer, use the promo code: singlmar29 at check out.
Note: This post is sponsored by The Fresh Diet, but my views and opinion of the plan are my own.