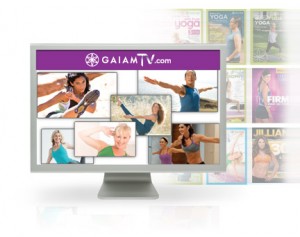 Getting in shape.
It's what many people start thinking about when the weather starts to warm up.
For me, I have run regularly through the winter, but not once placed my bike in the trainer. My weekly long swims at the local indoor pool was not part of my winter exercise regime either. As a result, the race I competed in recently just about killed me. Okay, so I am exaggerating just a little, but it felt like I was dying. The Boyfriend forced me in a hot shower post-race, watched me sleep all afternoon, fed me dinner, and then watched me sleep some more.
What I realized after that race is that it is time to stop allowing work to be the excuse and do something about my training. I can't keep to gym schedules (work excuse) so I needed something that would allow me to work out when I have the time, which could be odd hours.
Enter Gaiam TV into my fitness regimen.
Gaiam TV offers an innovative service for individuals interested in health, fitness, wellness, and more. With over 2,000 titles to offer for immediate viewing, it can make getting in shape and feeling better easier than ever.
The major categories include:
Yoga Studio
Fitness Studio
Wellness Center
Films & TV
Metaphysics
Explorations
Environment
It has been fun to stretch to yoga videos after long runs. The fitness studio has had great videos to help me build my core muscles as I prepare to increase my training schedule. I have viewed some informative videos in the wellness center as well. While we have not viewed any movies yet, there are some great family movies that I know my children will enjoy; it's next on the list of things to explore in my Gaiam TV account.
As a busy, single mom, what I love best is the opportunity to access Gaiam TV 24/7. I have viewed from my computer, but there is an iPhone app available and it is compatible with iPads too. This means you can take your health and wellness program with you wherever you go.
Gaiam TV offers a free 10-day trial period to prospective subscribers. The $9.95 per month subscription fee allows subscribers to stream unlimited content. There are no strings attached either; there is no commitment, and members can cancel at any time.
Note: This post is sponsored by Gaiam TV, but my views and opinion of the site are my own.