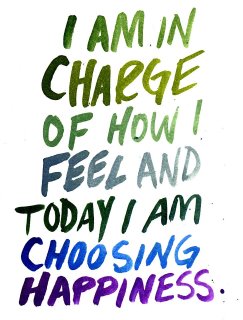 There are times coming off the path on my journey has led to unexpected, positive events. Recently meandering on a different path has not been a good experience. It has affected my happiness, an emotion I believe we are capable of controlling. But I was delivered a gift yesterday, which was the impetus for changing my direction. It wasn't a big, beautiful package with a bow. Instead it was simply an image posted in the Facebook timeline. It was the image above.
Getting off the path has led to me being surrounded by tall grass and weeds. As a result, my vision has been obstructed and I have been overly concerned with the weeds at my feet. This simple image reminded me of two very important things:
Angry people I come in contact with do not control my own happiness unless I allow it.
A busy schedule only affects the time I have for myself because I make that decision.
After seeing this image yesterday, I decided to re-read some of my posts which focused on happiness. These posts were a helpful reminder and part of starting down the correct path again. I hope these five posts can have the affect on others that the image on Facebook had for me.
Top 5 Posts on Being Happy
It truly is a choice and today I choose happiness.
What about you?