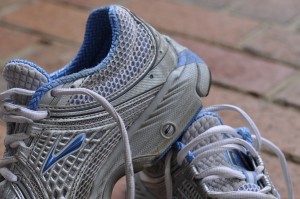 My ex competed for a slot on the U.S. Short Course Duathlon team last weekend. He has made the team the last several years and enjoys traveling to represent the U.S. in the world championship races each fall. This year, if he made the team, he would be traveling to France.
The morning of the race he woke vomiting, probably with food poisoning from fish the night before. My ex couldn't keep anything down, including water which would make racing in 90-degree heat for a slot on the U.S. team close to impossible. But he decided to try.
My ex was able to keep Gatorade down at the one mile aid stop so he decided to continue. He formed a plan to race unless he vomited again. Making it three miles, he felt he would be able to complete the race, but he started to feel sorry for himself. He had traveled to Arizona for the race, always made the team each year, and felt he had little chance to qualify for the 2012 team in his condition.
Still feeling down about his performance so far, a man came up beside him on the run. It was someone who has also made the U.S. team the last several years. A conversation began between the two of them.
Competitor: "It looks like we are both about 12 minutes off our race time from last year. I know what my excuse is. What's yours?"
Ex:"I woke up sick this morning. I have been throwing up everything, including water. What's going on with you?"
Competitor: "I had cancer over the winter. It affected my training."
When telling me this story, my ex told me he immediately stopped feeling sorry for himself and rationalizing a potential loss. The two of them pushed each other to the finish and were able to both qualify for the team.
This man and his inspirational story helped my ex dig deep and find a bit more energy to push himself to the finish line. It also helped me register for this yesterday:
Last year my excuse for dropping out of multi-sport racing was being a single, working mom in photography school. So far this year the excuse has been work. I decided yesterday it is time to stop making excuses.
What excuses have you been making in your life?
Maybe today is your day to stop making excuses too.
Iron Girl Image Source