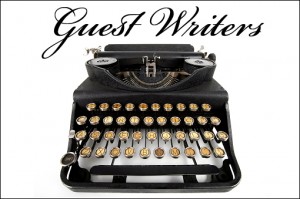 Charlotte from My Pixie Blog is the guest writer today. She is a fun, talented, upbeat person who always seems to brighten my day. I know Charlotte through her blog, volunteer work for Studio30 Plus, and involvement with Single Edition Media so we "bump" into each other almost daily. Charlotte's writing about love and relationships is honest and insightful. Her reflective posts regarding her past and where she is now–thriving and happy–are my favorite.
Please stop by to visit Charlotte after reading her guest post. She has a great giveaway right now so make sure to read her May 10th post, which has the details. Also follow her on Twitter and Studio30 Plus.
~~~~~~~~~
Each piece of clothing in my closet holds deep meaning in my life. I remember the skirt I wore on an interview for my current position, the long dress that accompanied me on summer Phish tour in 2010, the cute top I wore on a first date with the creepy weirdo who asked me to move in on our first date. Every item triggers a memory in my past, some happy and some painful.
For years, I have had a special relationship with a polka dot green dress that lived in my closet. This retro Zooey Deschanel dress hugs in all the right places and has been with me for at least seven years now. I just love it. I've never worn it without receiving at least one compliment and I have the perfect Birkenstocks to go with it. It's seen me through a few relationships, bad dates, and outings with friends. It was always the perfect go-to dress when nothing else spoke to me on a crisp spring day.
But after a bad date over a year ago, I didn't want to wear it anymore.
In the beginning of last summer I met up with a guy I had met on Match.com at a tiny wine bar in Chelsea. It was an intimate, dimly lit setting and a nice quiet spot set away from the hordes. He immediately earned a few brownie points for not taking me to a place where I had to scream over loud jukeboxes and drunken college kids playing flip cups (and yes, I have had dates in places like this before). Conversation was effortless and he appeared interested in my work, life, and favorite bands. He asked if I wanted to check out another spot in the area for another cocktail once the bar started to fill in. I agreed and off we went.
It was, for all intents and purposes, the perfect first date.
About a week later, he asked me out again. I had a terrible case of second date jitters (what if this date didn't live up to the first?) but of course I wanted to go. We agreed to meet under the highline at a new beer garden that had just opened in midtown.
That morning I unearthed the polka dot dress from the far corners of my closet and held it up in the mirror. Blue skies and sunshine were the early predictions for the day and I was happy I had pulled together an outfit that required very little effort.
That evening he greeted me with a kiss and looked down at my feet.
"Birkenstocks? I guess you really are a hippie."
Yikes.
I smiled and brushed it off, not thinking much of it. But he seemed impatient. He had lost some of the easy-going charm I was drawn to the week before. He appeared preoccupied and anxious about getting our drink tickets. And so I did what I do best. I entertained him with idle chit-chat and asked him questions about his day, his job, his family. When we finally had our drinks, he relaxed a bit and asked about my plans for the fourth of July. I told him how excited I was to meet up with old friends to see Phish.
He scoffed.
"What is that? Your fifth time seeing them this summer?"
"Actually it's my eighth," I raised an eyebrow.
I could play at this game, too.
I'm not quite sure what happened. It's possible he had already formed an opinion on me based on my Birkenstocks and carefree spirit. Perhaps I wasn't really doing a good job of putting my best foot forward because of nerves and my secret side business (AKA my blog). Or maybe he thought I was an aloof 30-something-year-old with little ambition and a groupie mentality. Whatever it was, I wanted out of the date. I had wasted a very cute dress on a guy who had promised me dinner but had ended the night early instead.
That dress didn't see the light of day for another year.
About a month ago, I had a date with my boyfriend and I decided I wanted to wear the dress again. I let my curly hair fall just below my shoulders, added some big earrings, and stepped into my comfortable Birks once again. This time I was greeted with a reaction I had never experienced before. He playfully insisted I turn around a few times and asked me to wear it every weekend. He took my face in the palms of his hands and kissed me passionately.
I had my polka dot green dress to thank for this display of affection. It wasn't that I needed the validation from a boyfriend, but I was happy to erase the negative memories that lived within its folds, its creases, and its narrative history.
And besides, we have many more Phish shows to twirl around in this summer.