Aging isn't an all-consuming concern of mine, but I can't say that looking younger isn't important to me. It would be hypocritical to do so while admitting I color my hair to hide gray or that I have quite an elaborate anti-aging cream regimen as well.The idea of doing anything painful to myself to look younger is simply crazy to me though, which is why I would never take drastic steps to look younger. I was intrigued though, when I was asked to try and write about an anti-aging product that is marketed as a pain-free alternative to Botox or surgery.
FaceFX by Silk'n has been found to improve skin texture, reduce fine lines and wrinkles, fade the appearance of dark skin patches, and reduce pore size. Results are expected as quickly as 3-7 weeks after beginning the treatment, which is easy and is not a time-consuming effort. The first month it is recommended to use FaceFX three times a week for 15-20 minutes and only once a week after the first month.
How could I pass up trying this?
I could not, of course.
It would be easier to say it's magic, but I am sure most people would like to know exactly how something that looks more like a vibrator would improve skin so dramatically. Since I am a writer and have little understanding of things scientific, here's how Silk'n describes the process:
"FaceFX uses a revolutionary new approach: Home Fractional Technology–a safe and effective manner to provide stimulation of heat and light energy to the multiple layers of your skin, without high levels of discomfort, making it a pain-free alternative to Botox or surgery. Or in between Botox or medical procedures, it helps maintain results longer."
I had no idea if it would work, but what I found immediately is that I loved my treatment time. The end of the device glows red and heats up, which is to be placed on the skin in the key areas a user would like to see an improvement. It actually feels good and was a relaxing break in my busy routine. The skin will become warm, but it never feels like my skin is burning and the process is not uncomfortable. I am assuming because it is heating "multiple layers" is why it the areas I focus on feel warm for up to an hour after treatment. It's below the skin surface though, which made me think maybe it was actually working.
It has not been seven weeks since I started using it so I am not sure if I have seen the optimal benefit yet, but I have seen an improvement and I will continue to use the product. Here's an example of results (note: not me):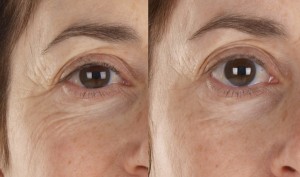 In addition to giving me a product to try, Silk'n is generously providing an exclusive offer to my readers. Anyone interested in trying anything from the Silk'n product line can receive 20% off their purchase by using the following code at check out: NYNY.