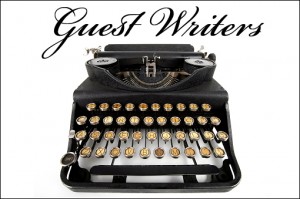 The fascinating Marie Nicole from My Cyber House Rules is guest writer today. Fascinating because she traveled ten months a year as a race car mechanic. Marie then focused on roller derby. Now she lives and sails full time with her husband on their boat. And that's just the beginning to what makes Marie unique. After you read about how she is now naked, please visit Marie's site, follow her on Twitter, and friend her at Studio30 Plus. She is one cool chick and I am happy to know her.
My name is Marie. I've been blogging naked for one month. At first the breeze felt odd, but I quickly learned to love the feeling it brought to my newly exposed skin.
Kelly invited me to write a guest-post about how blogging naked changed things in my life. And what a wonderful idea that was!
I believe the first thing that happened when I put Nikki Rules to rest is I changed as a blogger. I became Marie. And by becoming Marie I started writing like myself. Not like the loud,  brash and snarky Nikki. (OK, so that is still part of me, but not as much. I hope)
Blogging under a pseudonym turned me into somebody else. I know it's odd to say, but there really must be something to a name. Nikki. I pulled that one from my middle name. As a kid I wanted to be called Nikki but it never took. I am a Marie. To the core.
I think coming out of the closet has forced me to clean up my act. My writing has improved. The content of my blog has improved. In the same time as going naked and coming out of the blogging closet I took advantage of the situation to undergo a a major change: I went from Blogger to WordPress. It seemed appropriate. WP is simply more professional – in my humble opinion. And in doing so I took out the trash. I did a first cleansing of my posts. Deleted many of them.
I wanted the capacity to use my writing for future professional endeavors. I wanted to call myself a writer and have something to show for it. Switching to WordPress from Blogger does have the convenience of easily transferring the content but as far as everything else goes – it's like starting an entirely new blog. That part is still a work in progress.
I think the biggest change has been in my relationship with my best friend. I've talked about him before in my blog, but very little. I kept him out because he asked me to keep our life as private as possible. Which was the main reason for the pseudonym. I couldn't expose myself without discussing it with him first. Actually in more ways than one he's the one who brought it up.
The first time he did was when I posted 2 vlogs. He thought they were amazing and funny. "Why are you wearing a mask? Why aren't you just yourself?" He felt the content was good enough for future use as I was in training to be a clown. As I started applying for writing positions, he again mentioned about linking my blog.
"I'm coming out of the closet. Writing as Marie. How can I talk about you?" He looked at me and shrugged. "Use my name!" I reminded him of his desire to remain private. We agreed that as long as I didn't use my full-full name, and couldn't be found in a google search under it – all was ok.
And then… everything changed. When I talked about my blog to him prior to the change he would roll his eyes. When I talk about it now, he listens with interest. When he'd see me huddled over my laptop he'd insist I spent too much time on it. Now he understands I'm investing in my passion. When I tell him how much I love getting feedback he reminds me that how I feel about my writing should be enough to know it's good and that I don't need to hear from others.
I've recently applied for a writer-blogger position. In my application I linked My Cyber House Rules. On May 25 I received my first award from a brand new follower, a follower from outside my usual network.
Blogging naked – an inspiration from Kelly via her title and her stories; from Lance at My Blog Can Beat Up Your Blog (little did he know how far that one post about being yourself would take me); and from Jerrod who let it slip how he felt it was foolish how people went through so many ways to change names…  I thank you for inspiring me to be me.
I am Marie. I am a writer. I still dream of being a clown for the Cirque du Soleil. And no, I am not a monkey.