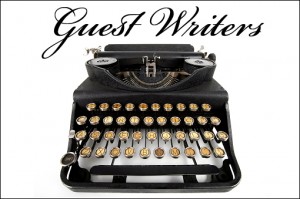 Nothing pleases me more than hosting someone who has recently come out as a blogger. Last month I hosted Marie Nicole, who used to blog under the pen name Nikki Rules. The latest guest writer reveling in her nakedness is Aimee (formerly Deus Ex Machina) from Goddess in the Machine. She is a talented, prolific writer.  It's always a pleasure reading her work; her choice of words and writing style inspire me. Enjoy what Aimee has chosen to share here and then take the time to read more of this talented lady's writing on her blog and at Studio30 Plus.
~~~~~~~~~~
I started blogging on April 27, 2008.  This was what I wrote:
"April 30 is Chris and my 14th anniversary. Our only regret is not placing serious bets that day. Unbelievable. 14 years. Wow. On July 8, we are going to officially be the parents of a teenager. I'm really not sure how I got here but the ride has been incredible. The only thing I don't have is a pretty apron and high heels I wear while washing the dishes."
 At that time, my husband had been in the Philippines for 4 months.  My boys were 10 and 12 years old.  They were (and are) homeschooled.  And I worked a full-time job.  At home.   On the day that I wrote that, the beginning of Pleasantly Demented, I was probably the loneliest I had ever been.
My husband had already been to Iraq twice and once to Afghanistan.   Despite the inherent danger ever present in those combat deployments, the Phillipines left me a broken woman.   I weathered the combat deployments with the spark I still carried from my youth.  I pulled myself up by my bootstraps and barreled through them.  But I slowly began to ignore myself.  I ignored the writer in me.  I ignored the athlete in me.  The woman.  The girl.  All of it had been put aside so that I could be a mother and the wife of a soldier.
By the time I began blogging, I hated myself.  I had not a single friend to my name, much less a social life.  I was an octagonal peg being forced into a pinhole.  I'd let my body go.  I'd let my mind go.
No one would guess any of that by the words I chose to write that day.  But the words I wrote 6 days later hit a bit closer to the mark.
"There are times when I literally just want to sit and be nothing. No goals, no motives, no concerns, no responsibilities, no information processing, no visual, tactile or olfactory stimuli, nothing. 
I am an awful mother.
I have no patience.
I have no tolerance.
I have no ability to think like a child.
Dirty clothes need to be washed.
I hate deciding.
Complexity is so overwhelming.
I allow my agoraphobia to take the lead.
Don't ask me to play.
Don't ask me to watch.
Don't ask me to listen.
Sometimes I just do not care.
I want so badly to achieve my maternal standard."
 I don't think I had a single comment on my blog for 2 years.  I never advertised it.  No one read it.  There were no blogs that I read.  I wasn't hiding, just seeking.  Myself and where I fit in the world.  Where my self-esteem had gone.  Where the crazy girl with the purple hair and the nose ring had gone.  The girl whose smile shadowed the sun.  The girl with enough confidence to share with the whole world.  Who knew words and how to dance with them.  Whose body was an amusement park with no lines.  With a foul mouth and a filthy mind.  I'd lost her.  I missed her.
I ever so tenuously began to reach a finger out into the land of blogfolk.  I discovered a few minds I enjoyed reading.  I left a few comments when I felt moved to speak.  And suddenly I had my first comment.  And another.  And another.
Instead of excited, however, I got scared.  Terribly anxious.  Overwhelmed.  Surely they'd see what an awful person I was.  Surely they'd read my words and run aghast at this creepy little creature.  I even made my blog private for a while.
What if they see my ugliness?  What if they say I am a horrible?  A horrible mother?  A horrible wife?  Or writer? 
Or worse.
What if no one understands?
The Aimee who is writing this today would kick her ass.  Today, I run races.  I just ran the Warrior Dash for the first time, and I am training for a half-marathon in October.  I woke up this morning and ran 7 miles with a smile on my face the entire time.  I physically look and feel better than I ever have.   Ever.
Today, I am writing a novel, and have a few writing projects in the works with my oldest son, who is also a writer.   Today, I have a best friend, an amazing woman who I have never met face-to-face, yet the strength she has given me is immeasurable.
I am still the wife of a soldier.  But today, I am the wife of a soldier who has multiple sclerosis.  And instead of weak and scared, today I feel like I could carry the universe for him.
Blogging was the provenance of all of it.
There was an awakening that day, April 27, 2008.  An awakening that fluttered so slightly that I only feel it now in retrospect.  As if a late evening breeze whispered against a door that I only thought was locked.  Word by word, I opened myself again.  Shone light into corners and under baseboards.  Sentence by sentence, I swept away the loathing and anhedonia.
One toe at a time, I returned to myself.
And slowly, people came.   And kept coming.  They read my words, and I theirs.
And my world grew.  Light and color ventured back into the ashen walls of my microcosm.  It happened in the manner of evolution.  Each day and week and month birthed a new generation of me, one who was stronger than the last.  These people were complete strangers.  Yet they did more for me than any parent, any teacher, or therapist, or medication.
It is validation we seek.  As humans.  Relationships that serve to remind us we are alive.  That we matter.  That we have worth and purpose.  And knowing that my words and thoughts and experiences were being heard, understood, even appreciated by other souls somehow made me real again.
I laid myself bare for whomever wandered into my soul tangle.  My mind.  My heart.  My darkness.  And my roses.  Unapologetic, served on tarnished silver platters with bent forks.
I have met some amazing people.  Brilliant writers, parents, storytellers, wanderers, blinding spirits, genuine and strong and real.  I've taken a bit of each of them, and have tried to give bits of myself in return.  I am happy.  Always work in progress, but work that gives me purpose and joy.
I play.  I play hard.  I feel fantastic.  I am strong.  I am proud of myself.  I love myself.  And I feel pretty damn confident that I am becoming someone who is worthy of being loved.
I feel pretty damn confident.   Full stop.
To those of you who have ever read my words, commented on them, every day or in passing, it matters.   To me here and now, and to all of the faces I present from one blog post to the next.   It matters.