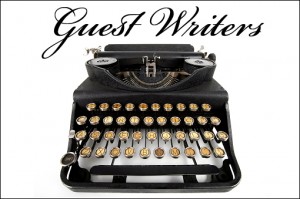 Today's guest writer is Nicole DeFelice. She is a talented writer and professional editor. Her articles about editing in the Studio30 Plus Community Blog are always popular. Nicole's writing on her own blog, Disturb the Universe, is a unique collection of stories about philosophy and life. But what I like most about this multi-talented woman is that I can call her friend. She is someone I have enjoyed getting to know through her writing, comments on my blog, and our interactions at S30P. The people you befriend in the process of running a blog is one of the greatest benefits. Nicole is a perfect example.
After reading this guest post, please visit Nicole's blog, friend her on Studio30 Plus, and follow her on Twitter.
~~~~~
"Memory is the diary we all carry about with us." ― Oscar Wilde
Cleaning out closets very often leads to digging out old memories long-forgotten or intentionally buried. I finally had to take the last of my stuff out of my mother's basement. It had been sitting down there for almost three years, since I temporarily moved back in with my family after I split from my ex-husband. Now that I had my own closets, mom wanted my crap to clutter them instead of her basement. I'd taken up precious storage space long enough.
My boyfriend moved into my apartment in December 2011, and we just celebrated our first anniversary last month. He is the greatest love of my life, and our relationship is unlike any in my past. I don't recall a time I was ever this happy, this loved, and this willing to love.
Not even when I got married.
I sat on the floor, with a pile of boxes on one side, and an industrial strength garbage bag on the other, systematically going through all the junk and either setting it aside to keep, or tossing it into the garbage bag. I sifted through all kinds of things—figurines, novelty items, and an abundance of photographs.
I laughed at the pictures of me, my best friend, and our boyfriends at Junior Prom. I smiled at pictures of my friends and I being silly down the shore (yeah, I'm from Jersey!), recalling the house we'd rented, and how it rained the entire time, so we had to make our own fun. I had on pajama pants with frogs on them. I loved those pants.
I smiled and felt a wistful tug at my heart as I flipped through the pictures of my first real love. I was painfully, devastatingly in love with him—with his looks, with his rock-star drummer hobby, with the feeling of being in love with him.
And then I came across the thank yous that my best friend and maid of honor had made me for my bridal shower. And some photographs of my ex-husband.
I didn't feel anything. I still admired the thank yous that my BFF/MOH had made, because they were beautiful and I remembered how grateful I was to her for all the love and effort she put into my special day. I was able to recall the excitement and amazement I felt when I saw all her gorgeous, crafty contributions.
But him. And the wedding day. Those pictures didn't evoke… anything. Not even resentment, or anger or anything. Just… nothing. I remember my wedding day. I remember that it was a great party. I remember having fun dancing with my family and friends. The weather was shit, but my hair held up. I felt pretty. Everyone looked awesome. Every detail was exactly as it should've been, exactly as I wanted it.
But I don't remember love. I don't remember any sense of romance. I can't look back and recall any feeling of butterflies. My boyfriend can come up behind me while I'm washing dishes and give me a kiss, and I get butterflies.
They were dead on my wedding day.
I have thought about why, and it is not until I wrote this down that something occurred to me. All of the other memories were of real things. Moments with my friends as a teen. My first real love for John. I can still conjure up, very vividly the first time he kissed me (it's been 13 years), or what certain music meant to us. I listen to it now, and we are suddenly lying in his bed, in the dark, whispering the lyrics to one another. And I can think about the first time I walked toward my boyfriend on a street corner in New York, and still feel the butterflies slamming around in my belly. The feeling that my heart would burst when he told a few months later me he loves me. All of those memories are based in something true.
I can't remember how I felt on my wedding day because it wasn't really what I felt. It was what I wanted to feel. What I thought I was supposed to feel. We'd had our struggles, but I was confident in what we could've become. I trusted that it was what I wanted. I'd worked so hard at making this relationship better (we were in therapy), and everyone said relationships and marriage are hard work, but I was doing the right thing. I was working hard. I believed I loved him, I believed we were ready to get married. I believed in us.
I just happened to be wrong.