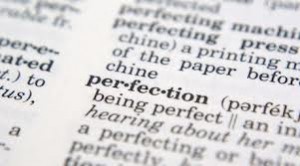 Perfection.
I have written my thoughts about this being a dirty word for me. This perfection-seeking tendency is something I will wrestle with quietly my whole life. When I slip into the perfection mode, it leads to trumped-up expectations and inevitable disappointment. Seeking this out in any area of life, including the search for a partner, is futile and frustrating. This is why I keep a realistic list of what I am looking for in a man, and have a system to update it as necessary.
Following each breakup, I hold lessons-learned sessions with myself. I check the Mr. Perfect-for-me list, tweaking any items necessary–both items that might be deemed unrealistic, and adding items I discovered were essential for me. I then analyze when, why, and how the relationship began to fall apart. After that mental exercise, it's back to re-working the list. Once my heart has healed, with the updated list in mind, it's back to the dating pool for me.
The list and process post-breakup might sound overly analytical, but the idea of dating without knowing what is desired and needed from a partner, and being mindful to keep superfluous items off the list, can lead to a disastrous situation. While keeping my unrealistic perfection-seeking tendencies in check with this approach, it has aided me in not looking for Mr. Perfect, but to simply seek out Mr. Perfect-for-Me.
What does your Mr. (or Ms.) Perfect-for-You look like?