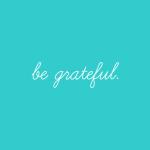 Consumer-focused Black Friday is looming, and threatening to take the spotlight off Thanksgiving. Many retailers are opening on the holiday this year, which to me is sad. I refuse to shop Friday, planning to spend another family-focused day together instead. Thankfully, others are also thinking of more important needs than those that are found at toy and giant box stores. My friend, Alycia Neighbours,  posed the following question yesterday:
"So we know that we NEED food, water and shelter. What else do you think we NEED in this life?"
To this question I responded by saying I need love, hope, and faith, which I have an over-abundance of in my life.
For this, today, I am thankful.
What are you grateful for today?
{This is part of a one-week series on giving thanks.}