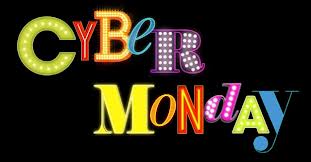 After writing a somewhat anti-Black Friday and anti-consumerism post last week, publishing this piece today might seem contradictory. It's not. We will all be shopping for our kids and loved ones, but how, where, and when I partake in the holiday shopping madness is something I can control.
I fully embrace online shopping and Cyber Monday because I can shop from home while not affecting my quality time with family, friends, Sean, and our kids.  There's no long wait as I meander through a parking lot, hoping for a space to become available. I don't have to stand in lines to complete my purchases. And best of all, I don't have to deal with the crush of people as they attack displays of folded clothes, forget the understanding of personal space, and gripe at the Starbucks barista because she isn't moving fast enough.
Rather than suffer through a crush of people and time-consuming activity of shopping in a mall over the weekend, I enjoyed a weekend filled with fun activities and people I love. Sean was here from Thanksgiving prep on Wednesday through this morning. Mom stayed with us until Friday evening. We had a large group for Thanksgiving dinner and an even bigger crowd for dessert. Friday evening was spent with a group of close friends. The rest of the weekend  involved decorating for Christmas, and my favorite little girls were playing with my kids between our house and their own. And without adding any stress, I was also able to complete almost all of my Christmas shopping while lounging on the sofa.
What do you do to reduce holiday stress?